This spring on the slopes of Mount Everest a timely (and, in my opinion, long overdue) documentary will be created: Super Sherpas. Focusing primarily on two amazing Sherpa climbers, Apa and Lhakpa Gelu, the film will document their ascent of Everest via the traditional Southeast Ridge Route.
For Apa Sherpa (pictured below in 2002 at Khumbu Basecamp), he will attempt to summit for a record seventeenth (yes, 17th!) time, breaking his own record set last year of 16 summits of Everest.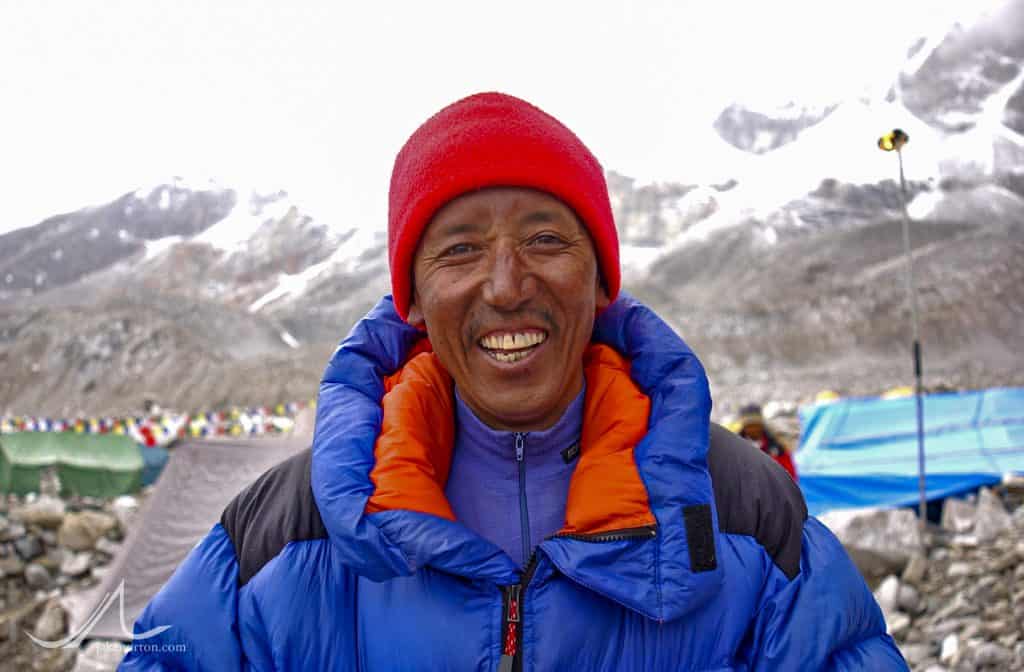 Lhakpa Gelu Sherpa set a world record on May 25, 2003, by reaching the summit from Basecamp in an astonishing 10 hours 56 minutes – that's a climbing speed of roughly 1,000 vertical feet per hour!
Together, Apa and Lhakpa Gelu will help show the world the true backbone of Himalayan climbing: the Nepali Sherpa and other Nepali tribesmen (see my article here on the The Sherpas (and sherpas) of Nepali Climbing).
It is sad, but not surprising, how little attention and recognition the Nepali people get for their contributions to Himalayan climbing. From the very first attempt on Everest in 1921, Sherpa climbers were chosen in Darjeeling, India, to accompany the 1921 Reconnaissance Expedition and assist with climbing and load carrying. The following year, 1922, seven Sherpa were killed when a massive avalanche swept them off the North Col Headwall. George Mallory, who was with the 7 Sherpa on the headwall and barely avoided dying himself, wrote to his wife Ruth of the tragedy:
The consequences of my mistake are so terrible; it seems almost impossible to believe that it has happened forever and that I can do nothing to make it good. There is no obligation I have so much wanted to honor as that of taking care of these men.
And, of course, it was Sherpa Tenzing Norgay who, in 1953, forged the way up the final steps of the Southeast Ridge Route with young Edmund Hillary and, on May 30, 1953, the two became the first people to reach the 29,035 foot summit of Everest. Edmund Hillary would later be knighted for his accomplishment; Tenzin Norgay never received such accolades. (Through his efforts and love for the Sherpa people, however, Sir Edmund Hillary has given back in strides to Tenzin's countrymen through The Himalayan Trust and other initiatives.)
These days, little has changed for the Sherpa and other Nepali people who climb in the high mountains. They still do the lion's share of the work – setting fixed lines, carrying tents, food, oxygen, and equipment into The Death Zone and the Khumbu Icefall – and sadly get the mouse's share of the credit for it.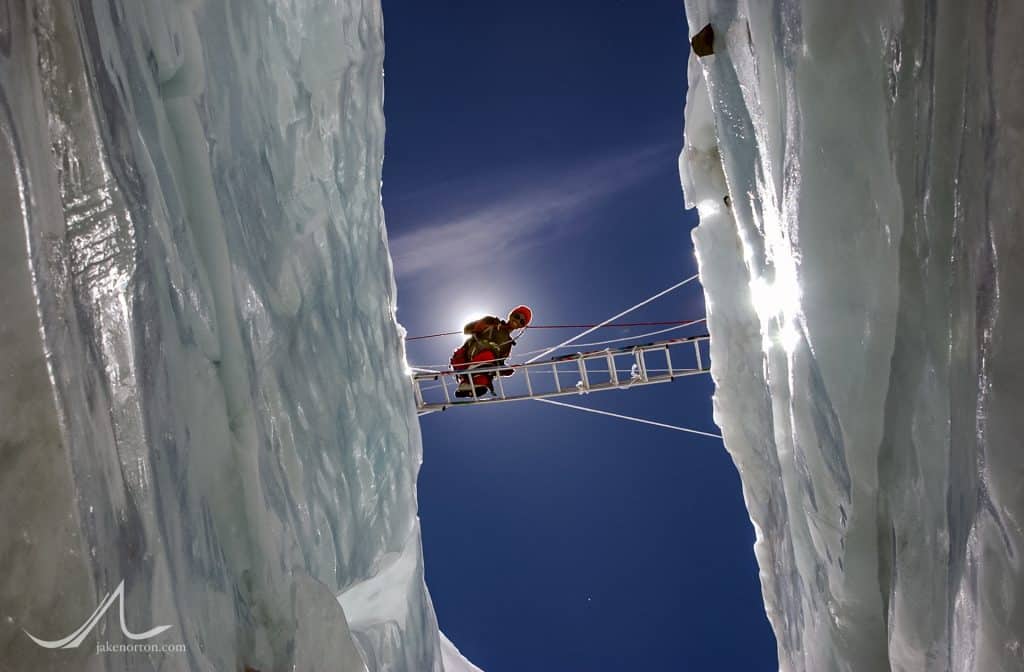 For many of us, names like Edmund Hillary, Jim Whittaker, Ed Viesturs, Reinhold Messner, John Krakauer and more are common and known. But Apa Sherpa, Lhakpa Gelu, and my close friends like Man Bahadur Tamang, Danuru Sherpa, Panuru Sherpa, Karma Rita Sherpa, and others are basically unknown – even though they have all climbed Everest multiple times and other 8000 meter peaks as well. (See my newsletter from June, 2006, for a tribute to my friend Ang Phinjo Sherpa who died in the Khumbu Icefall last year.)
And, I am guilty, too. Even though I give back to the Nepali community regularly – by being a Board Member of Porters Progress, sponsoring Kancha Tamang through school and helping him get a foothold in life, sponsoring a child through Educate the Children, and my time studying and working in Nepal – I still have gained a great deal more from my climbs on Everest and elsewhere in the Himalaya than my Nepali and Sherpa climbing friends.
In my keynotes, I speak about this when discussing the importance of teamwork in reaching our life summits. The recognition (or lack thereof) the Sherpa receive for their efforts in the high mountains can only be considered a failure of teamwork.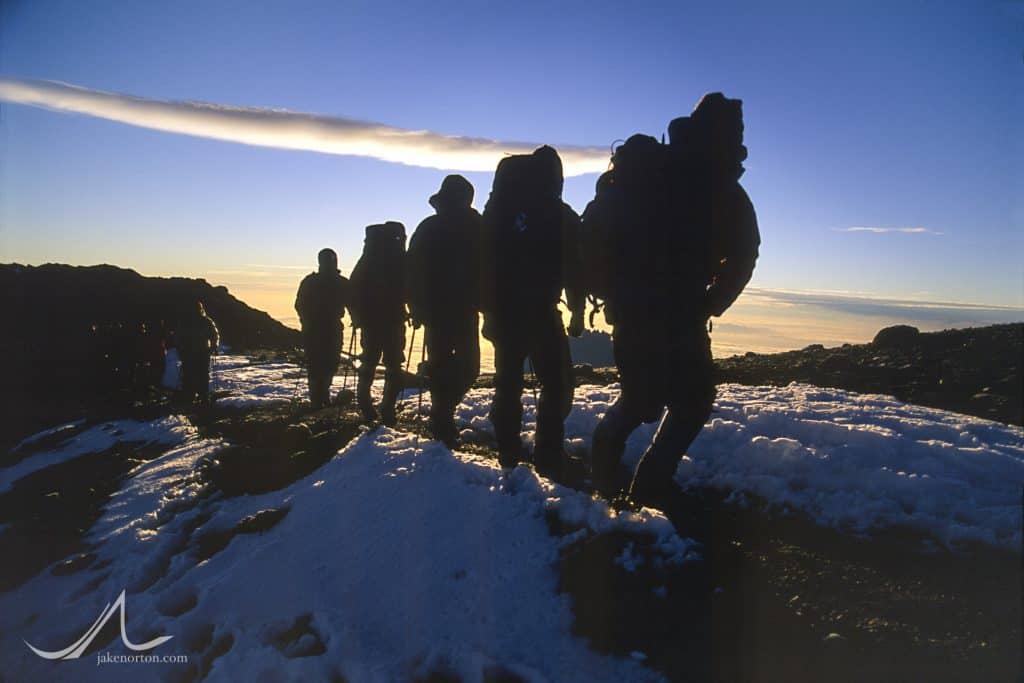 They give their all, regularly and without fail, in the most inhospitable environment on earth. They risk their lives daily to help others reach their goals. And they do it all with a smile, a gracious Namaste, and a humbleness which is uniquely Nepalese. Through their efforts, members of the climbing team reach their goals, realize their dreams, stand on the summit, while many of the Sherpa return to lives of subsistence farming in one of the poorest countries on earth.
For a team to function fully and effectively, each and every member must be recognized for their contributions. Whether they sweep the floor or give the press conferences, a functional team recognizes that each member of that team made the success – or failure – possible.
So, when choosing your partners for the next climb, make a mental note to acknowledge their contributions, from the bottom to the top. If your teammates and your partners feel acknowledged, feel that their efforts have been recognized, the entire team benefits and the summit prospects improve.