Following up on my post last week on what Noel Odell could see on that fateful day, June 8, 1924.
I've been doing a lot of thinking about it recently, and have come back to a theory which hit me on April 28, 2001, as Brent Okita and I moved up the North Ridge toward the 1924 Camp VI, while following a similar path to Odell 77 years before. I fairly quickly dismissed it as folly, for everything seemed to point to Odell seeing Mallory and Irvine on either the First, Second, or possibly Third Steps. (In October 2021, I was reminded of this old thoughts by a comment from a reader, Milos, on an old Odell post.)
Odell himself vacillated on this many times in his life, but overall seemed fairly set on the climbers being on the Second Step. The issue with this, as has been written and discussed at length, is that he saw them only for a brief time, and in that brief time - maybe five minutes at most - he saw them move from the base of a great rock step, and on to the top.
I've struggled with this for decades: How could this timeline make sense? Put simply, it doesn't. The timing, the description, it just doesn't add up. Let me explain a bit more:
The First Step could possibly match Odell's sighting, but it is tough for climbers today - with oxygen, fixed lines, and a known route - to ascend it in five minutes; Mallory and Irvine of course did not know the route (which is not obvious), had no fixed lines, and were using a rudimentary-at-best oxygen system. Additionally, the mountain, from what I can tell, was fairly dry up high in '24, much like it was in 1999, when there was little snow on the First Step to accentuate the climbers Odell saw.
The Second Step is where most of us - myself very much included - have long wanted to believe Odell saw them, for if they were seen atop it at 12:50 PM, there almost no chance they did not make the summit, for at that point all the difficulty would be behind them. But, again, it doesn't quite add up. The only place on the Second Step where it would be feasible for Odell to have seen them is on top of the Step, or on the direct ridgeline of the Step, which is not a feasible line of ascent. And, Odell noted that he saw them at the base and then the top. Seeing them at the base would be impossible as it's too dark, and additionally there's no conceivable way they could climb the Step - or even the final portion of it - in five minutes.
The Third Step has been offered up many times, but again it does not really quite make sense to me. First off, Odell was fairly adamant throughout his life that he saw them on the Second Step. Additionally, while it's the only Step that could realistically be climbed in 5 minutes, it doesn't align with Odell saying he saw them on a snow crest leading up to the Step, as the Third Step does not have a snow slope at its base.
So, where did Odell see them? I can't say for sure, but I've come back to the old idea I had 22 years ago. I think it likely that Odell did see them on the Second Step, or at least what he may have considered to be part of the Second Step.
Let me explain my thinking a bit: While perhaps not official names, the first two steps it seems were noted as such in 1924. In The Fight for Everest, Norton writes of the Northeast Ridge route: "There was always the doubt that a feature in this route, which we called the second step, might cause considerable difficulty…" (Emphasis mine.) Note his language - which we called - indicating that referring to the Second Step as such was common on the expedition. So, we can infer that Odell - and everyone else - knew the First and Second Steps by those monikers.
Interestingly, though, in his accounts, Odell does not say he saw them on the Second Step. Rather, in the official account, he says he saw them on the "last step but one from the base of the final pyramid." If it was the Second Step, why didn't he say that, write that? Why, instead, did he say "the last step but one?" Perhaps because the point he was referencing was not the First Step, and not the Second Step, and not the Third Step - which is never referenced in 1924 and essentially dismissed as a non-obstacle - but instead the last but one?
Take a look at this photo, taken in 2001 from a similar vantage point to Odell in 1924. The First and Second Steps are clearly defined, clear as day. Between them, though, just beyond Mushroom Rock, there is another feature - a rock hump with a snow slope on its northern aspect. Could this be where he saw them? Could this be the "last step but one?" And, if so, why would Mallory and Irvine have been on that feature?
First, it seems to line up with what Odell said in Fight for Everest 1924:
I noticed far away on a snow slope leading up to what seemed to me to be the last step but one from the base of the final pyramid…

- Noel Odell in Fight for Everest 1924 (on Archive.org)
The rock hump has a snow slope on its north (left hand) aspect. It seems, from a distance - from where climber's like Mallory and Irvine would stop to take a break and take stock - to lead up to the Second Step.
And, if the Second Step is the last step, and the First Step is before it, but there is another, less obvious step-like feature between the two, could it not be therefore the "last step but one?" It seems reasonable.
On the second question - why would Mallory and Irvine possibly be there? - that makes more sense with a visit to Mushroom Rock, a prominent and obvious feature just before it. From Mushroom Rock, the modern route dips considerable below the crest of the Northeast Ridge, climbing the Second Step not from the crest but from well below, using the "Corkscrew Chimney" to access the snowpatch beneath the final headwall. But, this is not obvious, not simple, not at all appetizing, and hard to imagine Mallory and Irvine figuring out this route on the first try.
More likely, from Mushroom Rock, they would be enticed to continue along the crest of the ridge, if for no other reason than to scope out the terrain ahead, get a good view of the Second Step, and see how on earth they might climb it. While it seems counterintuitive to us to go this way - because thanks to a century of climbing it we know which way to go - it would make a lot of sense for Mallory and Irvine to do so. Continuing on the Ridge from Mushroom rock is a more natural, logical route at first blush than descending below along the narrow shelves and exposed benches of the modern route.
Take a look at the photos below to get a better idea: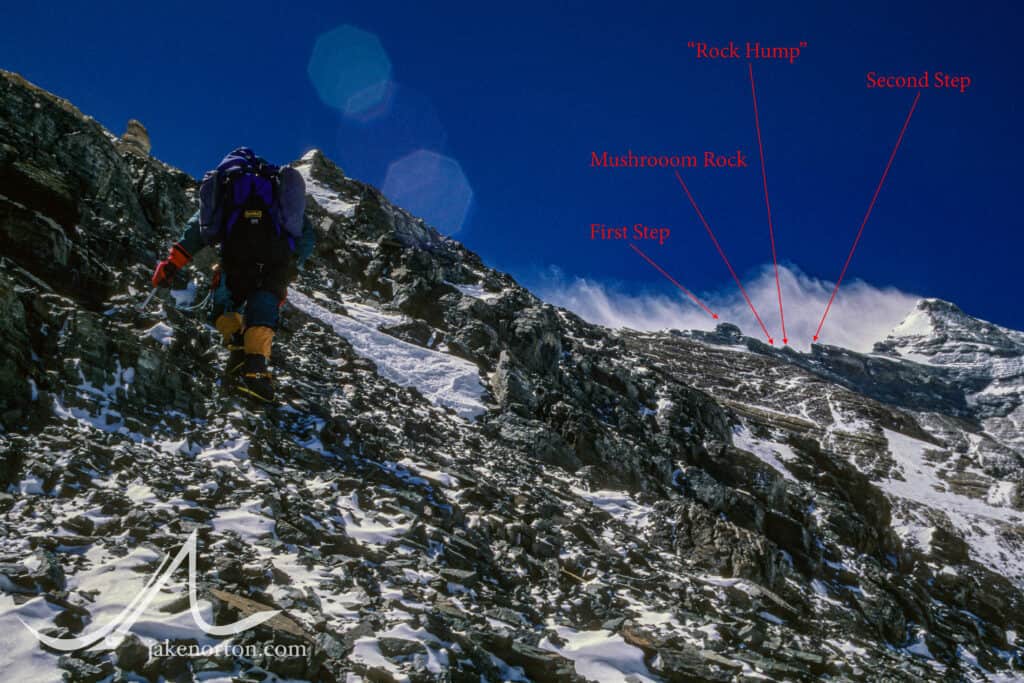 So, what of it?
To be honest, I'm not entirely sure. There are some out there who would prefer a definitive statement, a conclusion one way or other saying Mallory and Irvine had to have been here, there, or elsewhere. They must have done this, gone this way, picked up this or that, etc. Unfortunately, all of that is hogwash, mere conjecture. All we know is actually quite minimal: They left Camp VI, at some point they left a trail of gear beneath the First Step (a mitten, an ice ax, and an oxygen bottle), and they were last seen at 12:50 PM by Odell.
Do I know this is where Odell saw them? Of course not. It's just a hunch, a thought, an idea that perhaps adds some fodder to the already rich pile of ideas surrounding their final days and hours. And, perhaps someone with a better brain, better eyes, and less preconception than me can turn my "observation to some account for the purposes of" history.
What do you think?