On June 8, 1924, at 12:50 PM, climber and geologist Noel Odell scrambled to the top of a small rock tower on the North Ridge of Mount Everest. Excited at having found the first definitive sea fossils on the mountain, he gazed expectantly across the rocky massif toward the Northeast Ridge above; he knew that somewhere in that vast and frightening landscape, his friends were making an attempt on the summit.
Little did Odell know that what he saw next - and his recollection of it - would be the source of constant debate for 100 years, a debate of intensity and scrutiny, a keystone of our comprehension of the final days and hours of George Mallory and Andrew Irvine.
Odell wrote several iterations of his sighting - in his diary and various other publications - but the general gist is fairly consistent:
At 12.50, just after I had emerged in a state of jubilation at finding the first definite fossils on Everest, there was a sudden clearing of the atmosphere, and the entire summit ridge and final peak of Everest were unveiled. My eyes became fixed on one tiny black spot, silhouetted on a small snow crest beneath a rock step in the ridge, and the black spot moved. Another black spot became apparent, and moved up the snow to join the other on the crest. The first then approached the crest rock step, and shortly emerged at the top. The second did likewise. Then the whole fascinating vision vanished, enveloped in cloud once more. There was but one explanation. It was Mallory and his companion, moving, as I could see even at that great distance, with considerable alacrity, realizing doubtless that they had none too many hours of daylight to reach the summit from their present position and return to Camp VI by nightfall. The place on the ridge mentioned is a prominent rock step, at a very short distance from the base of the final pyramid, and it was remarkable that they were so late in reaching this place.

- Noel Odell, The Alpine Journal, Volume 36, Issue 229
Some of Odell's wording - and thus interpretations of precisely where the two climber's were sighted - changed enough in various writings and recollections to be of importance, but that is a subject for another post and discussion. Here, today, I'm more concerned with what precisely Odell could have seen on that fateful day 99 years ago. Namely:
Could he have seen what we now know as the three steps - First, Second, and Third - from his position?
Could he have mistaken one for the other, gotten them confused?
And, could he have seen people moving on the Northeast Ridge from his viewpoint?
To answer the first question, let's take a look at what Odell was up to that day. His main prerogative was to ascend from Camp V to Camp VI in support of Mallory and Irvine. Odell - an incredibly strong climber and geologist by career - was focused on his support role but also in "conducting as wide a geological survey…as possible." To that end, Odell was exploring a bit, and just before 12:50 PM, he "climbed a little crag," he wrote in The Fight For Everest 1924, "which could possibly have been circumvented, but which I decided to tackle direct, more perhaps as a test of my condition than for any other reason.'' It was atop this "little crag" of about 100 feet that he saw the figures moving.
So, where was this crag, where was Odell, and what could he see?
Unfortunately, we don't know - and likely never will - Odell's precise location. The only indications are that he planned to take a "circuitous route" to Camp VI to inspect the North Face, indicating he would break off the North Ridge proper. And, we know it took him roughly 5 hours to get to his crag from Camp V, and another hour to arrive at Camp VI. We also know Odell was dawdling, exploring, hunting for fossils, as his six hours between camps was quite slow for him. Thus, we can only presume his crag, his viewpoint, was a slow(ish) hour from Camp VI, and likely off the North Ridge on the North Face.
Fortunately, not knowing precisely where he was standing is not a big issue for us, as we know something more important: Odell was a climber and a geologist. As both, he knew to look at rocks, features, routes, strata, banding, and more. His climbing background - and his weeks on Everest up to that point - would have burned the features of the Northeast Ridge into his mind. Any climber who's been in as-yet-unknown terrain understands how closely one surveys the landscape, the features, the challenges and pitfalls, hard ground and easy ground.
For months, the team had been approaching and climbing the mountain, forever discussing and analyzing the challenges that lay above the highpoints of 1922. They studied photographs, discussed options, and with every step stared at the terrain ahead. From Basecamp and from nearly every step above the North Col, the Northeast Ridge is in full view, its ferocious landscape staring down in challenge. It is unfathomable that Odell would have seen a foreshortened view of the Ridge and not known the difference.
As for mixing up the Steps - confusing the First with the Second - that, too, seems impossible, as they are remarkably different features. The First from all perspectives is rounded, benign, seemingly more a lump on the Ridge than a major obstacle. The Second Step, however, is markedly different: An 80 foot vertical jag sticking like a ship's prow from the crest, it is vicious, violent, malevolent, unmistakable. As for the Third Step, from all angles (and from reality), it appears as less of a step than a broken extension of the grey band running along the base of the summit pyramid, and was not referred to as a step in its own right in 1924.
To my mind, then, it defies logic to presume Odell either (a) could not see the full climbing route and did not realize it, or (b) confused the Steps.
So, assuming he could see the Steps clearly and knew which was which, could he have even seen people climbing them from his vantage point?
The simple answer is: YES.
To dive a bit deeper, let's first think about Odell's location. We know he was on a bit of a walkabout, exploring and finding fossils, and wrote his plan was to veer off the North Ridge proper onto the North Face to explore. This deviation would put him closer to the modern climbing route - which does exactly that - than the route direct from 1924 Camp V to Camp VI. Additionally, we can infer from his times that he was likely fairly high above Camp V, as it took him 5 hours to get to his crag, and only one additional hour to get to Camp VI. Thus, we can realistically place Odell out on the North Face, near the modern climbing route, and relatively high in relation to 1924 Camp VI.
It might be somewhere quite close to where I took this photo of Dave Hahn in 2004: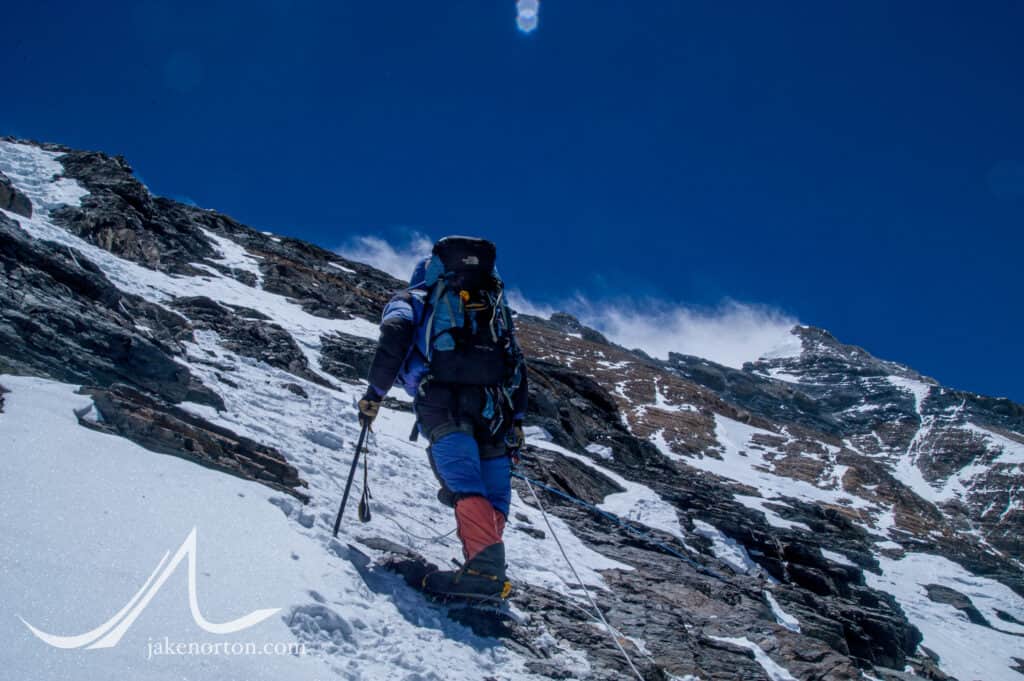 Just seconds after snapping that shot - 27 seconds after, to be precise - I glanced up again and saw people moving atop the Second Step and snapped a second photo: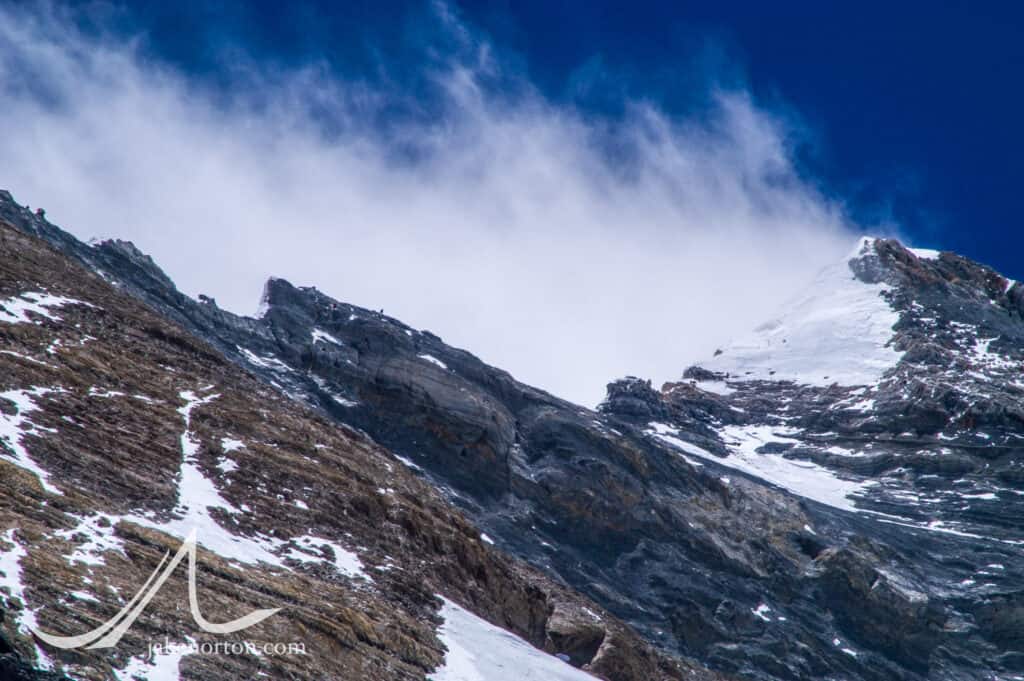 You can clearly see the silhouettes of people atop the Second Step, and if you look closely, you'll see another person left of Mushroom Rock, one about to rappel the ladder on the Second Step, and three people above the Third Step. But, a camera lens is not a human eye, and I told you where to look. So, can we replicate what Odell's view might have been?
The first photo was shot on a modern (at the time) camera (Nikon D100) with a 24-120 mm lens at 24mm. The D100 has a crop sensor, so the 35mm equivalent focal length would be about 36mm. In doing some research online, I found that the human eye's view is roughly equal to using a 50mm lens on a 35mm camera. To make the first photo more like what Odell would have seen, I cropped in 23% to get a roughly correct angle of view using data from this Nikon page. (Nota bene: I'm admittedly awful at science and math, so please let me know if I've mudged this up!) Here's the result: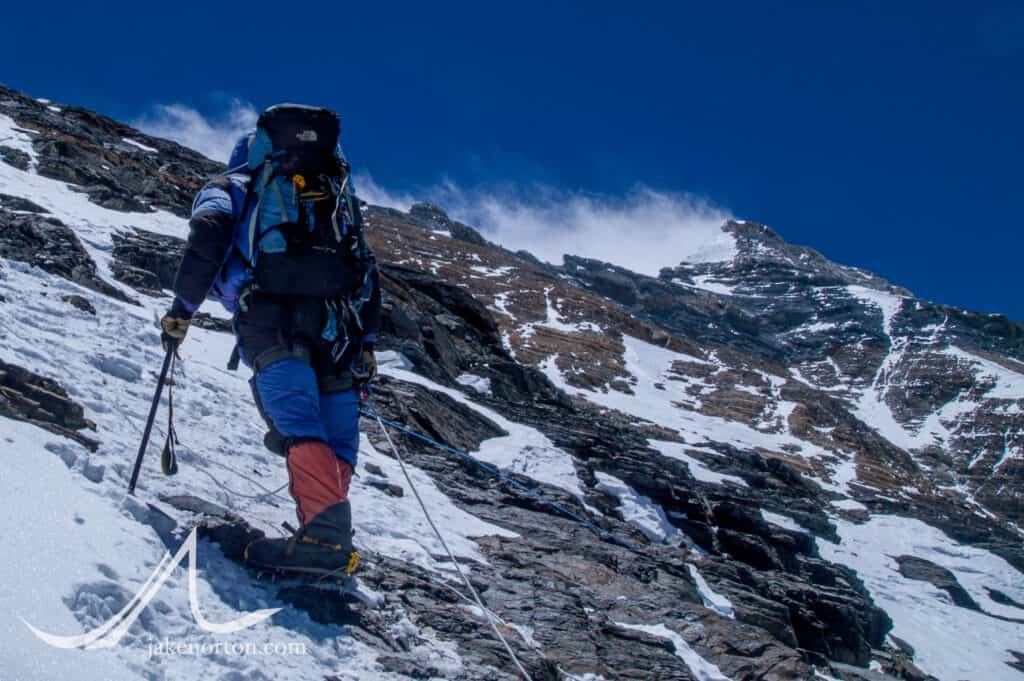 Assuming my data above is correct, this makes everything a bit closer, a bit bigger, a bit easier to see.
Now, take the second image. I saw the people moving with my eyes, but using my camera zoomed in to 120mm, which on the D100 is equal to about 180mm. Obviously, that is quite a bit more than the 50mm we're looking for: it's a lot "closer," and thus not a good representative of what Odell might have been able to see. So, I took that shot, added it as a layer in Photoshop atop the prior image, and using content aware scaling and Puppet Warp I resized it to match closely the features and keeping scale and ratios in mind. The result is below in a still image: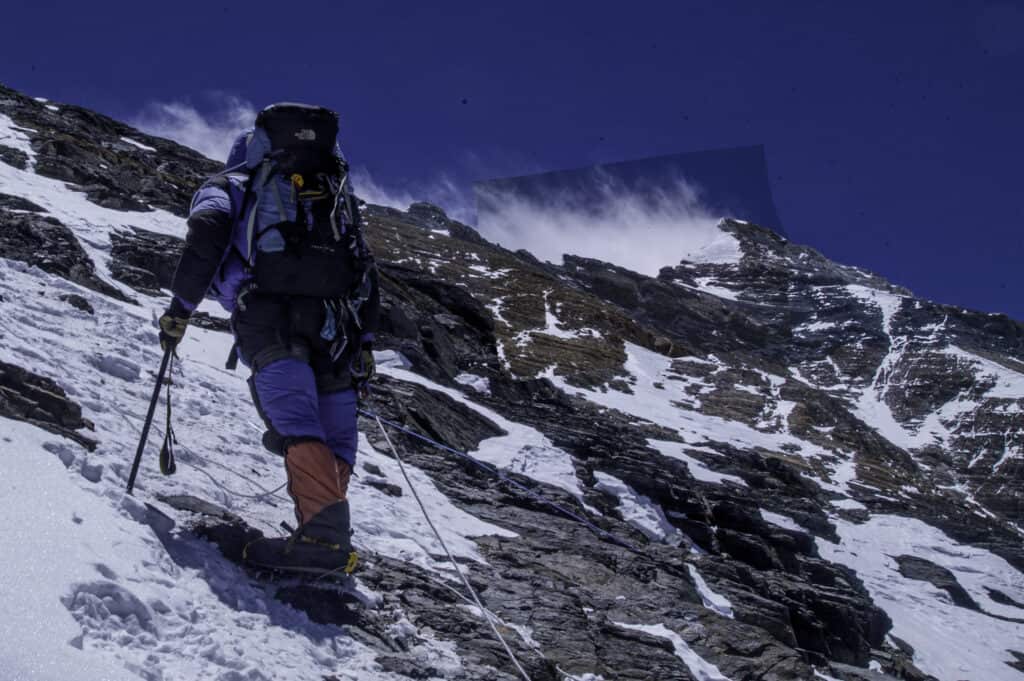 While not perfect, you can pretty clearly see the person atop the Second Step. Want to make it a bit more accurate? If you print this PDF (on a good printer with good paper, and print fullsize without any scaling or "fitting to printable area") and hold it about 23 inches away from your eyes in good, bright light, you should be replicating essentially what my eyes saw on that day in 2004. (Want to dork out on all of this? Check out this discussion on StackExchange.) Can you see the climbers now? Pretty tough, but now imagine they're moving. Yeah, a bit easier - as I found in 19 years ago - but still not easy.
The big question remains: Could Odell have seen them? It seems, from the above, that he certainly could have, especially if he knew where to look. And, if we believe his words to be true, then he did see something on the Ridge that day. Since he only had a few moments to make his observation before "whole fascinating vision vanished, enveloped in cloud once more," it stands to reason that the first place Odell's eyes went - and the place he honed in on, expecting to see the duo - was on the ridge crest.
Odell's sighting and his statements about it have been called into question many times in the intervening years. He even changed his position on the location of the climbers a couple of times, but ultimately he steadfastly stuck to his story, insisting that he saw Mallory and Irvine - not rocks, not illusions - moving. (See my story here about Glenn Porzak's encounter with Odell shortly before his death.) Want to hear it from the man himself, backed up by Sir Chris Bonington? Watch this video below from the cued starting point, or for extra credit watch the whole thing:
In the end, we still don't know where Odell was with precision. But, I feel strongly we do know what he could see, can realistically assume he knew what he was looking at, and we have his word on what he saw: two climbers moving, with alacrity, at "the last step but one from the base of the final pyramid."
Still so much to learn, so much to understand, but I think we can take questions of whether Odell could see people on the Ridge, and whether he got confused about the Steps, out of our questioning.
What do you think? I'd love to hear feedback on the above!
Note: In writing this, I've had some additional thoughts about what Odell might have seen and where he saw the climbers. I'll get that out next week. And, for anyone wanting to dive deeper into all of this, please hop on over to the unDefined Community and read the posts and comments on this subject by Darren Wisniewski (see the PDF he attached to his initial post), the post by Carl Arnst and subsequent comments by Robert Edwards and others, and also the comments on my post here.)