Twenty-four years ago, in 1999, Conrad Anker discovered the remains of George Mallory on Mount Everest as part of our 1999 Mallory & Irvine Research Expedition.
Since that time, a lot has transpired: numerous searches have been conducted, many camps and artifacts have been found, and a plethora of theories, ideas, and observations have been made about the final days and hours of George Mallory and Andrew Irvine in June 1924.
A year ago, after many requests, I posted an interactive, visual project showing as best I could the searches that took place 1999-2019 (the latter being the last time the North Side of Everest was open, and the last time searches were conducted), the routes and areas searched, items found, etc. It turned out fairly well, I think, but many people had one request: to overlay all the findings on a head-on view of Everest rather than a top-down view from a satellite.
Well, doing that took recreating all the data points on new images, so it took some time. But, I finally worked my way through the last bits recently, and have a new, updated version to share with you all. This new version has the original satellite view, plus two additional "head on" views.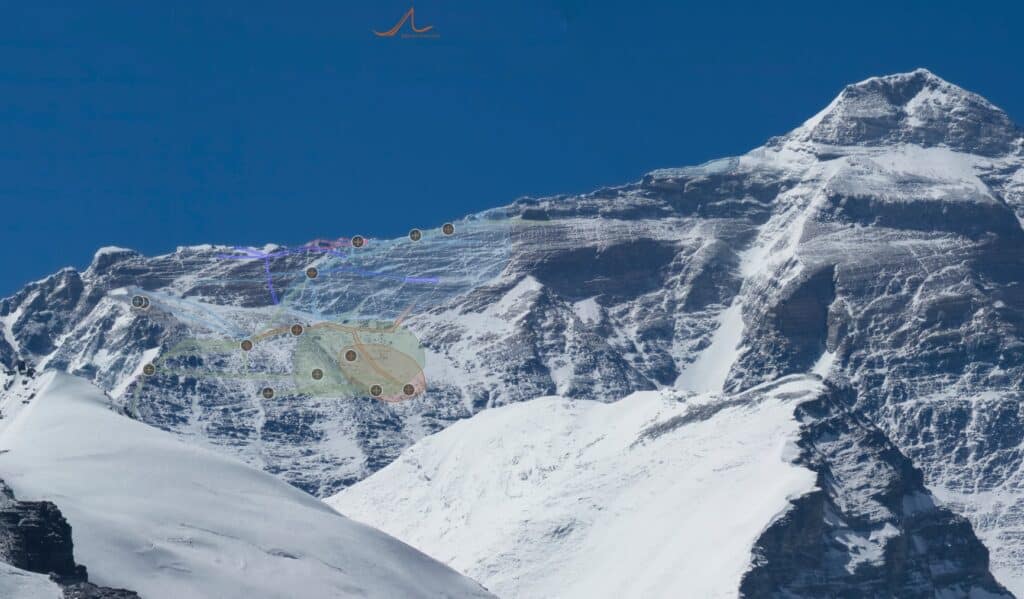 The first head-on view is a multi-image panorama taken by me from Rongbuk Basecamp in May 2004 as Dave Hahn and I wrapped up our 2004 search expedition. The second is an enhanced image taken from a helicopter by Simone Moro when I was attempting the West Ridge in 2012. Simone took the image at our request so we could suss out the conditions in the Diagonal Ditch and Hornbein Couloir, but it ended up being a great image for this purpose as well.
As always, please read the instructions (which open on load) and the caveats in there. But, most importantly, enjoy, and let me know what questions/concerns/corrections you may have!