On May 14, 2014, my godmother, Helen Ann Rhea, passed out of this world, ending a protracted, 7-year battle with the aftermath of a massive stroke. For 72 years, Helen was a rock in our family, always there with a smile, a hug, and endless love, tending to the needs of everyone – often at the expense of herself – and helping to raise five generations.
While I'm happy that Helen's long battle is over, I long to see her smile again, to hear her laughter, to philosophize once more about the vagaries of life at 1:00am over a cup of late-night coffee. I kick myself for not taking more time to talk when we could, to ask when I had the chance, to simply be with Helen – a woman of few words, but amazing impact – while she was still with us.
And, I struggle to find to words to describe her. She was, in many ways, indescribable. But, I want to share what I see as the essential essence of Helen Ann Rhea, the principle and trait that guided her life, that instructed those around her, and that lives on as one of her legacies. So, below is the bit I read through a mess of tears and emotion at here memorial in Alton, Illinois, one week ago today.
---
About 40 years ago, I was given one of the best gifts of my life: being made godson to Helen. As you all know, she was – is – an incredible woman who touched the heart of everyone she came in contact with. As I drove across the Kansas plains Wednesday night, making my way here from Colorado, I was of course thinking about Helen and all she meant to me and to so many. Images appeared before me, wisps of Helen coming through the ether: her laugh, deep, from the heart, entirely contagious. Her smile, wide, full of beauty and integrity and love. Her calm, as infectious as her laugh, and able to quiet the fussiest baby, the most intransigent teenager, and the most irascible adult. So many qualities, so many memories, so much love and inspiration tied to one remarkable human being.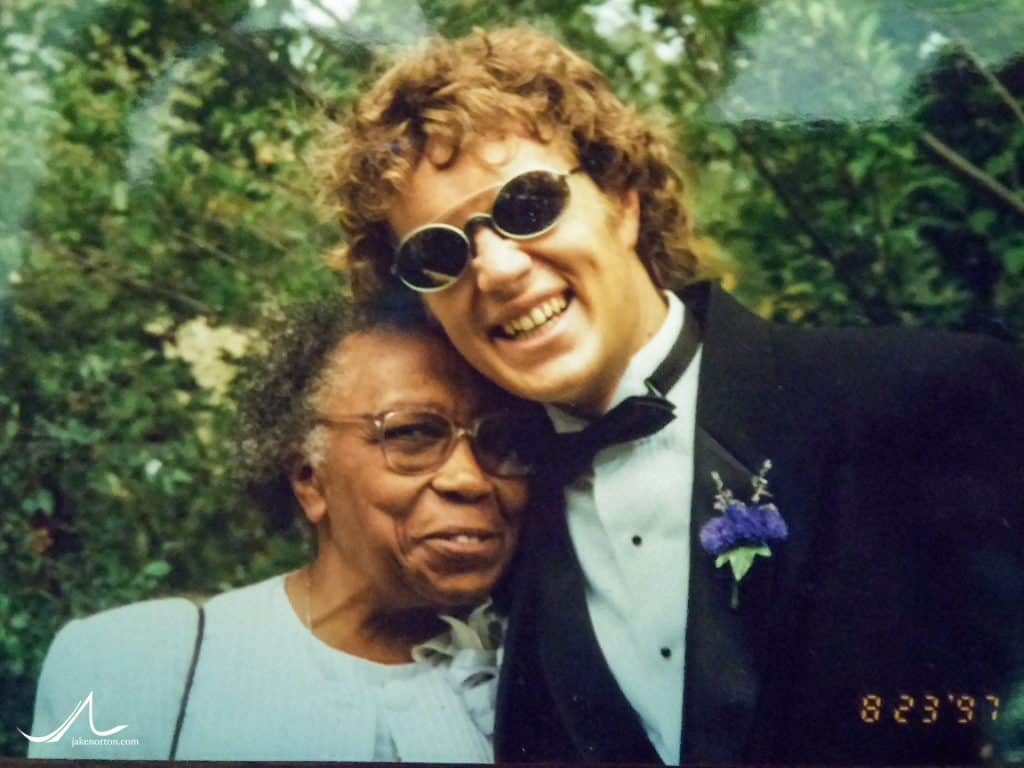 I knew I wanted to share something of my memory of Helen with you all today, and as the miles of plains ticked by, I wondered what it could possibly be. There is so much to share, not enough time to share it all. Which quality to choose? Which story to recount? Which memory, etched into the essence of my being, to share? And, as I asked, Helen answered, as she always did. Gently emerging from a low band of clouds on the distant horizon came a giant full moon, bathing the night with a soft peach glow – a color that has always made me think of Helen. It touched everything, gently but firmly, with grace and passion and compassion and love.  Not a single leaf, not a blade of grass, not a car or truck of house or inch of landscape was missed – that beautiful wash of color was everywhere.
And I realized: that was Helen. Of all her qualities, all the incredible elements that made up the irreplaceable whole of her…it was her love that I will most remember and most cherish. Her love was a love that had no bounds, had no bias. She loved everyone, black or white, left or right, good, bad, or indifferent. It wasn't that Helen agreed with everything, or liked what everyone did, or blindly accepted the wrongs done to her and to others; it was that she loved. It was that she believed, in her mind, heart, and soul, in the potential of any and all to be good; and in the power of forgiveness.
In her quiet way, without preaching or politicking, but simply with love, Helen transcended the hurts and angers that divide so many, and she stitched people together with a cloth of love, an embroidery of passion and forgiveness that no one could deny.
That peach-colored light, soft and full of love as it bathed the Kansas plains, was Helen…she was here with me. I pushed my head forward into the light and let it bathe my face as her love bathed my heart and the hearts of so many for 91 years.
I love you, Helen. Thank you.