There was activity in the meadow this morning. A dozen or so big bull elk - the adolescent males unable yet to gather a harem - stood around munching dry grass and sparring, antlers cracking in the pre-dawn light. Barely able to hear, eyes clouded by cataracts, Pema nonetheless knew they were there; her sense of smell, infinitely stronger than ours, painting a mental picture of the meadow goings-on. True to form, she was duty bound to react, to protect. Wearily, she hoisted her arthritic body, awash with aches and pains, out of bed and hobbled to the door. That left leg - the knee blown out by an elk kick 8 years ago - somehow stayed strong and she hobbled to the edge of the deck. A hoarse bark, vocal cords worn from years of use, was just enough to alert the elk: Their sparring stopped, they gazed upward at us, nervous, aware this old girl was marking her turf, delineating her territory, willing to protect even still. They moved on, and so did Pema, back to bed with a sigh.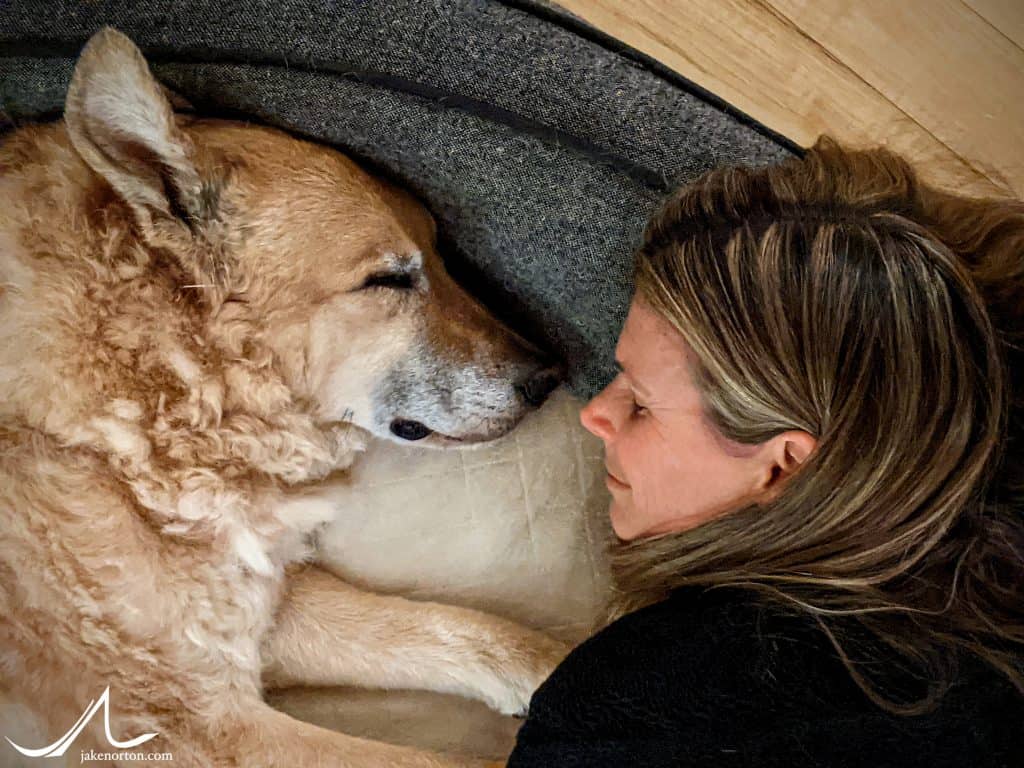 It's been hard - no, that's not strong enough, true enough. Watching her age and wither has been soul-crushing, emotionally rending, devastating in that very visceral, primeval, guttural sense. My adventure companion, stalwartly by my side - or far ahead, chasing smells - now watches me leave through sad eyes, knowing - as I do - that her adventure days are over, while wishing - as I do - that they were not. Like many, I think, I've tended to shun thought of the inevitable, banishing the concept of her imminent departure from my brain, my being; the idea is too much, too hard, too unfair. How could she go before me, before us, when she has already taught us so much yet we've managed to learn so painfully little?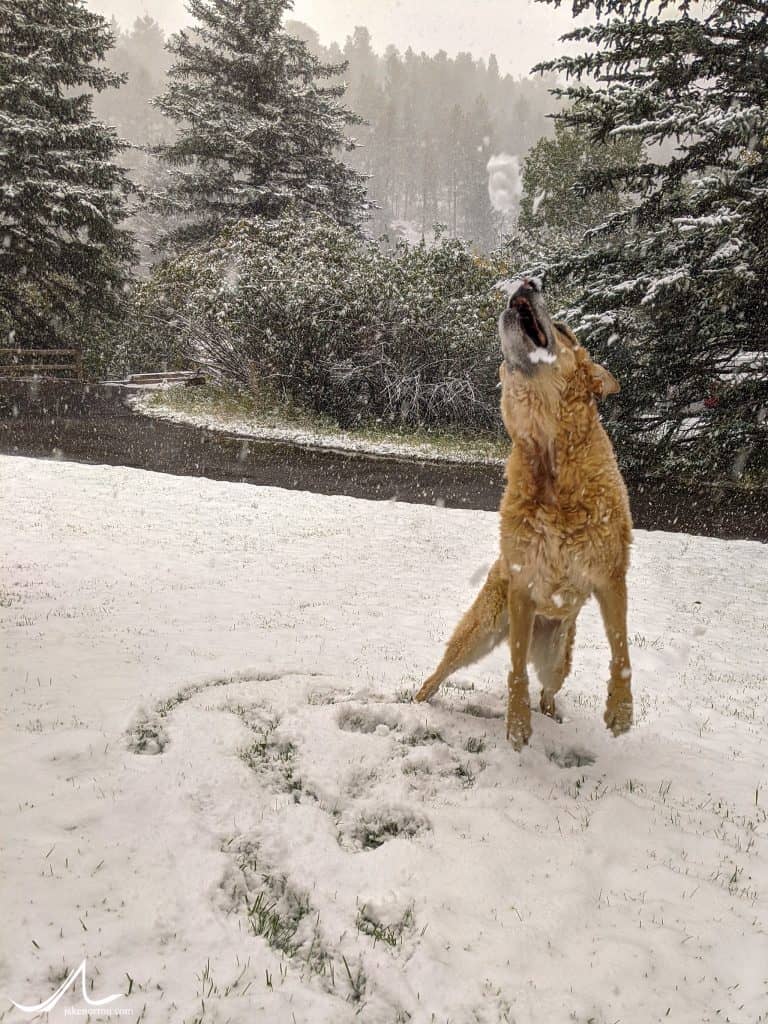 But, we have a somewhat perverse approach to death in our society. We tend to see it as a finality, assigning words like "departure" and "passing" as if once the heart stops beating, breath stops flowing, muscles stop moving, and neurons cease firing…the being, too, is gone, the door shut, the existence vanished like dust in the wind. Personally, I cannot adopt that perspective, for Pema, or for anyone. If we are anything at all - and by we I mean me, I mean you, I'm talking about Pema, about your dog and my Mom, that tree you love and the bird who visits your feeder every day, and the neighbor down the street, and really any being we make an emotional connection with and who, by virtue of that connection, will evoke feelings of loss and hurt when they're gone - we - that we - are certainly more than the conglomeration of atoms and molecules, firing neurons and beating hearts, masses of tissue and bone and hair that collectively builds our physical being, our immediate, tangible presence. Beyond all that, beyond the body which grows and changes and ages and ultimately decays, beyond the mere physicality of presence, there is an essence - call it soul, call it spirit, call it what you will - that transcends the physical, that is inherently more than the presence, and it is that which we love, and that which will endure so long as we allow it, allow ourselves to see it.
In a powerful ode to the love of dogs - to the love of anything we love, really - Fiona Apple beautifully canceled a South America tour to be with her dying dog, Janet, sharing a handwritten, 4-page letter of explanation. In it, she wrote:
I know she is coming close to the time where she will stop being a dog, and start instead to be part of everything. She'll be in the wind, and in the soil, and the snow, and in me, wherever I go.
Like Apple, we know - sadly, painfully, tragically - that Pema's time is now close, bearing down with the hot breath of inevitability. It's not easy; you and I all know that. Pema knows that, too: She can sense our disease, the angst underlying our actions, our emotions, our sense of being. Because we know it's coming, and she knows it, too. But, unlike us, she's not afraid. Sad, perhaps, if I may so anthropomorphize, but scared? I think not. The natural world seems to have a far healthier vision of life and its corollary, death, than we humans do.
In A Thousand-Mile Walk to the Gulf, John Muir reflected on death while walking through a graveyard in Georgia:
On no subject are our ideas more warped and pitiable than on death. Instead of the sympathy, the friendly union, of life and death so apparent in Nature, we are taught that death is an accident, a deplorable punishment for the oldest sin, the arch-enemy of life, etc. … Let children walk with nature, let them see the beautiful blendings and communions of death and life, their joyous inseparable unity, as taught in woods and meadows, plains and mountains and streams of our blessed star, and they will learn that death is stingless indeed, and as beautiful as life, and that the grave has no victory, for it never fights. All is divine harmony.

- John Muir, A Thousand-Mile Walk to the Gulf (library access)
Death and life, life and death. The Yin and Yang of existence, more real than reality, more true and inescapable than anything else. Yet we humans desperately fight it, deny it. Perhaps it's because of ego, that human trait to own, to possess, to cling and never let go, and to deny that which brings discomfort and pain. But that ego is a simplistic machine, conflating existence with the physical, ownership and possession solely to that which can be touched, held, felt. What if we release that conceit and allow our ego to possess, to cling to, not the physical but instead the spirit, the essence, the memory of the existence rather than the transient existence itself? When we do that, immortality is suddenly, elatingly, liberatingly possible, real. As Shankara explained it:
The Atman [soul, spirit, the eternal] is birthless and deathless. It neither grows nor decays. It is unchangeable, eternal. It does not dissolve when the body dissolves. Does the ether cease to exist when the jar that enclosed it is broken?
When I awaken tomorrow, Pema will not be here physically. Her jar will be broken, but the ether of her still present, tomorrow and forever. I'll never again romp with her in the woods, lift her over a log, carry her down the stairs, or caress her soft fur and listen to her placid snores. But, she will be there, in the ether, in the subtle-yet-real memory of all that is her.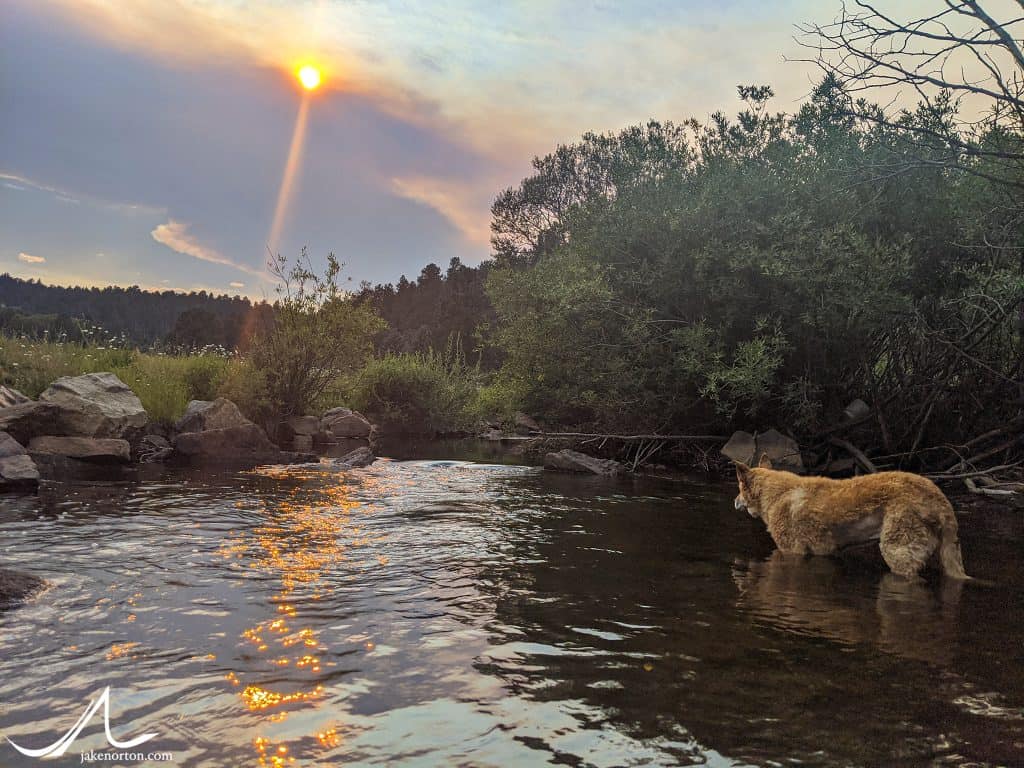 She'll be there on the porch, barking at the elk; she'll be in the hills, sniffing sniffs and scrambling up hillsides. She'll be in the creek, diving for rocks and swimming under the setting sun. She'll be there to teach our kids (and us) how to love fully and unconditionally, to not hold grudges, to be brave and curious and loyal, to be gentle and kind and always full of grace, to seize life and marvel at its wonders, and to live in the here and now. She'll be there to greet us at the door, to share her courage, her wisdom, her unflappable enthusiasm and unending, unconditional love. Through the eternity of her memory, she will never be gone.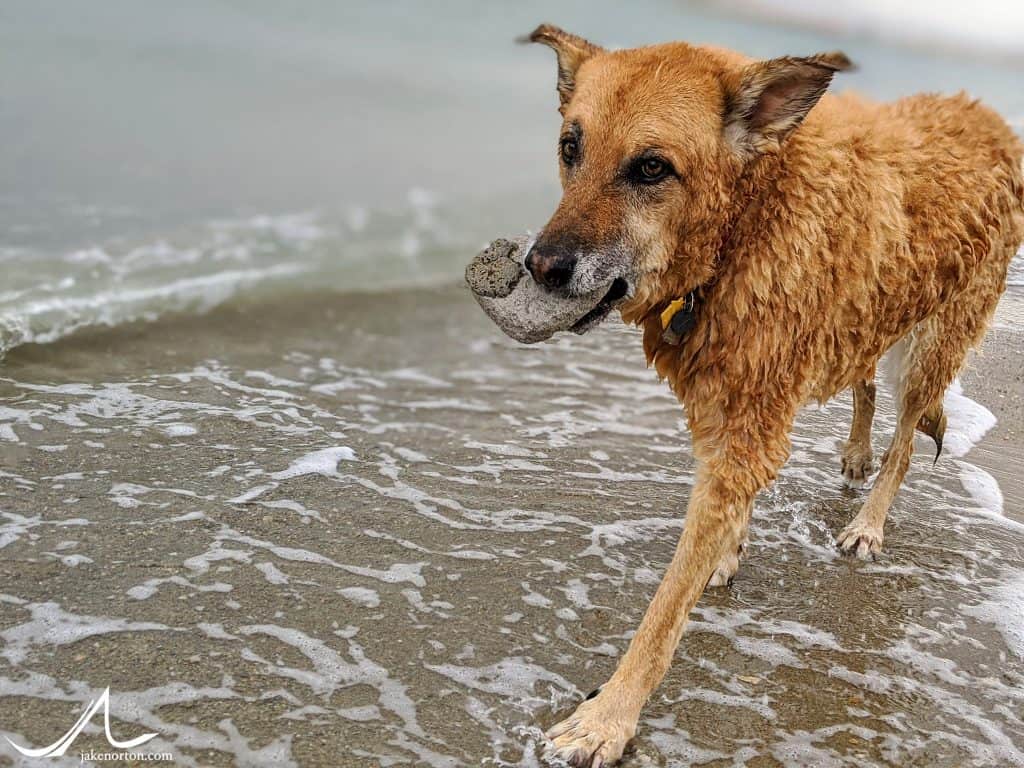 Tomorrow morning, I won't be mourning. I won't dwell in the fact that she's gone. I will instead celebrate the fact that she lived, and she lives on.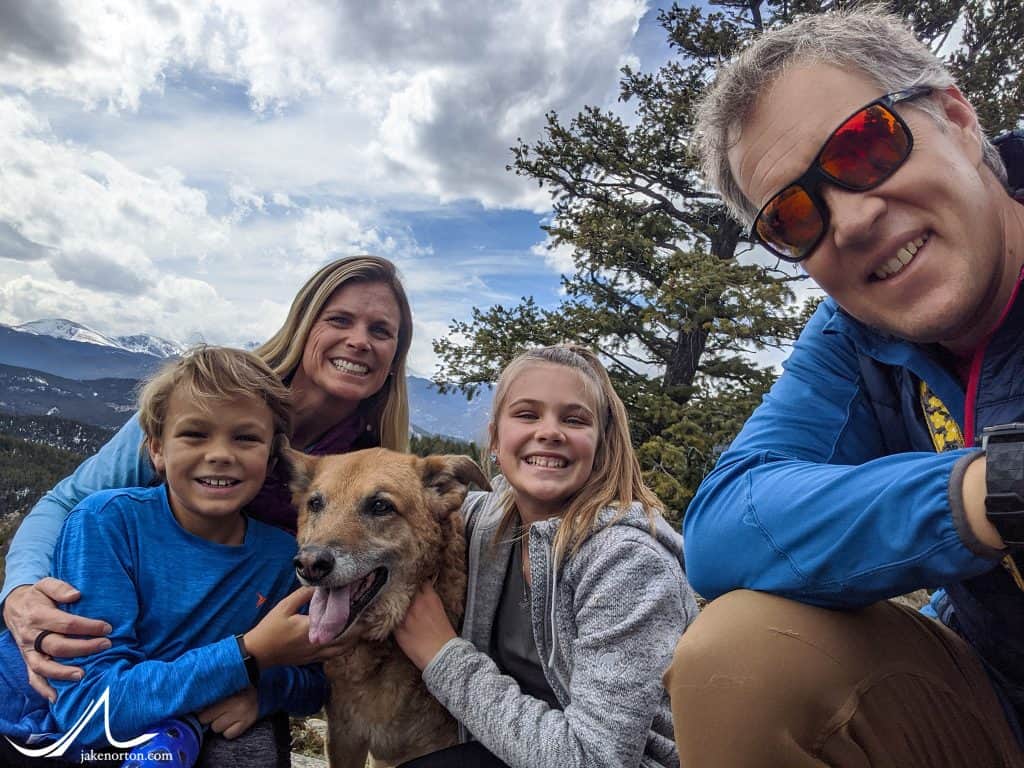 Listen more often to things than to beings
Listen more often to things than to beings
Tis' the ancestors' breath
When the fire's voice is heard
Tis' the ancestor's breath
In the voice of the waters
Ah -- wsh Ah -- wsh

Those who have died have never, never left
The dead are not under the earth
They are in the rustling trees
They are in the groaning woods
They are in the crying grass
They are in the moaning rocks
The dead are not under the earth

Listen more often to things than to beings
Listen more often to things than to beings
Tis' the ancestors' breath
When the fire's voice is heard
Tis' the ancestor's breath
In the voice of the waters
Ah -- wsh Ah -- wsh

Those who have died have never, never left
The dead have a pact with the living
They are in the woman's breast
They are in the wailing child
They are with us in our homes
They are with us in this crowd
The dead have a pact with the living

Listen more often to things than to beings
Listen more often to things than to beings
Tis' the ancestors' breath
When the fire's voice is heard
Tis' the ancestor's breath
In the voice of the waters
Ah -- wsh Ah -- wsh

Breaths, from the original poem by Birago Diop, and famously performed by Sweet Honey in the Rock