For a long time now, I've been wanting to create a place for supporters and members of the unDefined Blog and JakeNorton.com - as well as others who happen by - to have a space where we can all engage, share, discuss, learn, and communicate with one another...and do it without the angst and vitriol so often found on more common channels.
A couple of months ago, I started working on this plan in earnest, sampling various platforms, settling finally on one (Circle.so, if you're interested), and then working to customize the space, add content, and figure out how to make it all work.
It took longer than I planned (doesn't it always?), but I'm happy to announce that the unDefined Community is now launched and ready for engagement!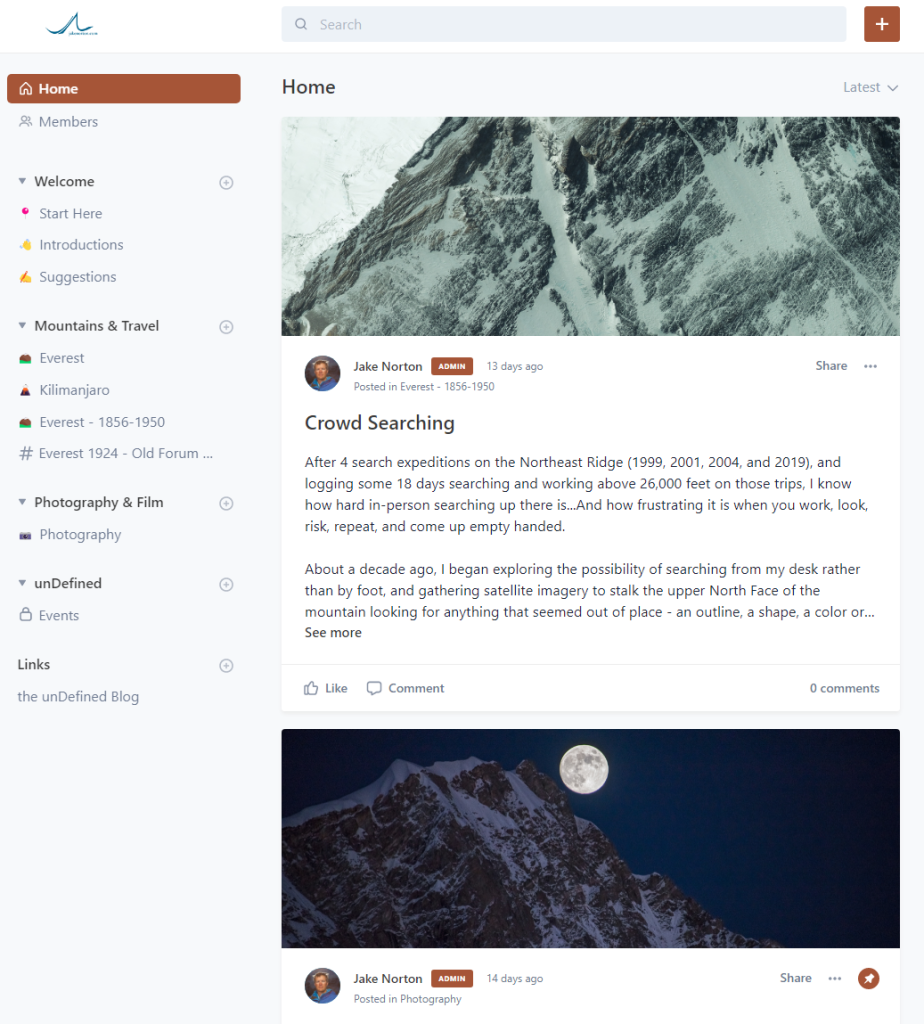 You might be asking: What is this all about? Let me explain a bit more:
The Community idea grew initially out of the vast interest in the story of Mallory & Irvine and the desire of many of those people to have a space where we can all discuss the story, the mystery, and the ideas and theories around what happened to them back on June 8, 1924. As a result, you'll see that much of the community at this point is focused on Everest past, present, and future (with a special emphasis on past). In addition to new content and more to come, my friend and Everest historian Pete Poston was kind enough not only to let me port over the considerable data from his old discussion forum, but also to come on as a moderator (and hopefully contributor) to the Everest sections.
As I built things initially focused on Everest and Everest history, however, I decided to expand things a bit. It seemed natural that the Community would also warrant sections on other mountains I know and love: thus, there is a Kilimanjaro space, and I'll add more as time goes on. I've also added spaces for discussion and sharing of photography and more.
And, perhaps most exciting (to me at least) in this virtual world, I'll have the ability to do "live" events within the Community, sharing presentations and slideshows, Q&A sessions, and to bring in others for discussions on popular and pertinent topics.
Finally, to the point of making this a "safe" place for people to gather, learn, share, and discuss, it is not fully open to the public. Instead, everyone has to register through my website - those of you who are already supporters and members of JakeNorton.com can sign in using your normal credentials by clicking the "Continue with Memberful" button (see screenshot below), and new visitors can simply click "Not a member?" and follow the simple instructions to get access.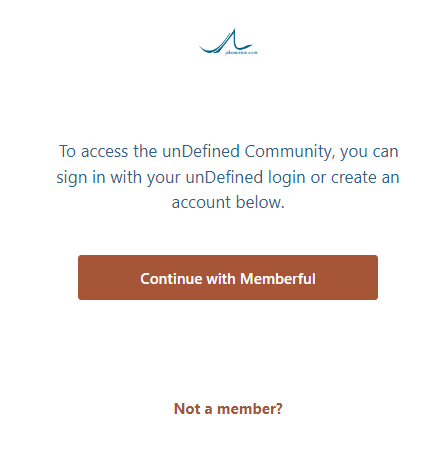 I'm really excited about going live with this Community, and sharing it with all of you. Please take a look, dive in, learn, share, comment, discuss, and let me know what else you'd like to see to make it a better space for us all!