114 years ago today, Andrew Comyn Irvine – "Sandy" to his friends – was born in Berkenhead, England.
At age 22, in 1924, he left England and Oxford for India and Tibet as the youngest and most inexperienced member of the 1924 British Mount Everest Expedition.
As luck would have it – and as his innate skill as an engineer encouraged – Irvine was chosen by George Mallory to accompany him on the expeditions fateful, final summit attempt.
Mallory & Irvine were last seen by teammate Noel Odell at 12:50pm on June 8, 1924, less than 1,000 feet from the summit, "going strong for the top."
The duo were never seen alive again, sparking the greatest mystery of mountaineering – and perhaps the greatest mystery of all exploration: Did they reach the summit of Everest 29 years before Hillary and Tenzing climbed it from the south side?
Irvine did not live a long life, but he lived a full one in his 22 years. As family friend Sir Arnold Henry Moore Lunn wrote:
"Irvine did not live long, but he lived well. Into his short life he crowded an overflowing measure of activity which found its climax in his last wonderful year, a year during which he rowed in the winning Oxford boat, explored Spitsbergen, fell in love with ski-ing, and – perhaps – conquered Everest. The English love rather to live well than to live long."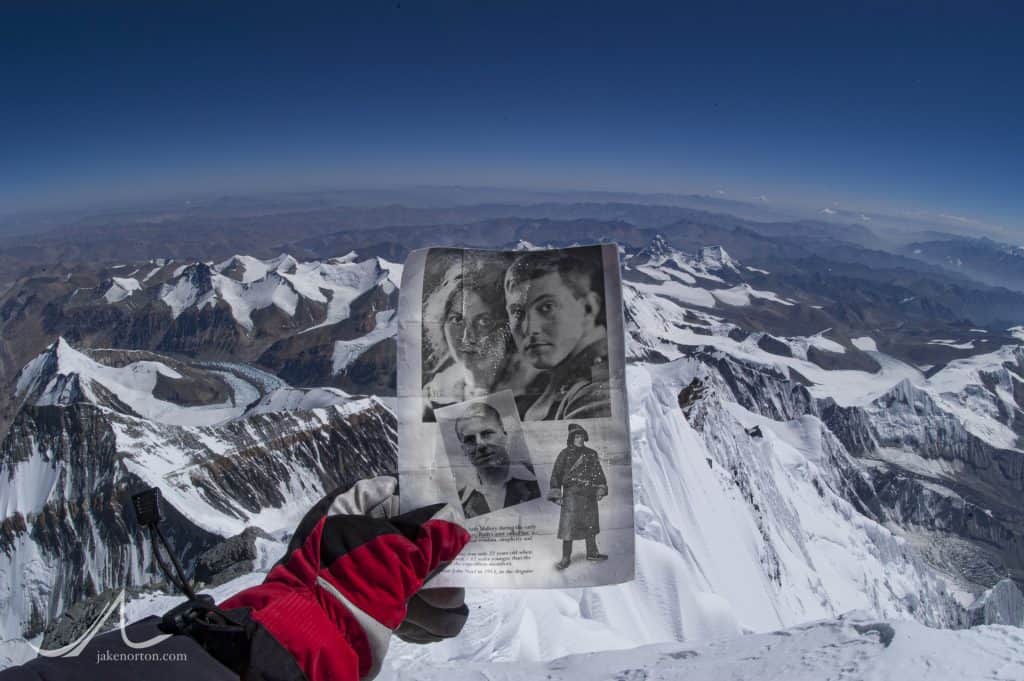 In the photo above, taken on the summit on May 30, 2003, I hold a picture of Andrew Irvine, George Mallory and his beloved wife, Ruth Turner, and John Baptist Lucius Noel, expedition photograper and funder. I had climbed Mallory & Irvine's intended route up the Northeast Ridge, and buried the photo in the summit snows in tribute to them and the pioneering pre-World War II Everest expeditions. For more on the mystery of Mallory & Irvine, see my blog posts on the subject.