Note: I've been going through tons of old images from Everest these past weeks while building out a massive series of interactive panoramas of the mountain. This project has taken on a life of its own, taking me (and you, once I'm done) around the mountain and its environs, taking deep dives into history, routes, facts, and stories. This story popped itself out at me this morning - perfect for today's "Moments, Memories, Mountains" post . Enjoy!
Camp V on Everest's North Ridge is a rather brutal place. It's notoriously cold and windy - I'd argue the coldest and windiest place I've visited on Everest, or anywhere - and rarely fails to bring on a headache to rival any hangover. Time spent in Camp V is more ordeal than experience, more pain than pleasure, definitively cemented in the realm of Type 2 fun, perhaps bordering on Type 3.
The morning of April 28, 2001, was no exception. Brent Okita and I awoke to the bone-numbing, soul-freezing, all-penetrating cold of 25,600 feet, a fresh dusting of snow outside the tent and stalactites of ice clinging precariously inside, crystalline remnants of the prior night's breath wanting nothing more than to fall into the morning's water heating on the stove. Inertia often becomes an unwanted guiding principle at high altitude, sapping motivation and encouraging lethargy at every turn. Brent and I battled to get up and get going but eventually won against our own weakness and stepped out of the tents.
I've always been amazed by how much change is brought by a simple action, how completely inertia is replaced by enthusiasm once we muster the courage to take the first step. As I emerged from our nylon cocoon into the stunning beauty of Camp V, my desire to lie about in my sleeping bag waned quickly, and excitement for the day grew exponentially.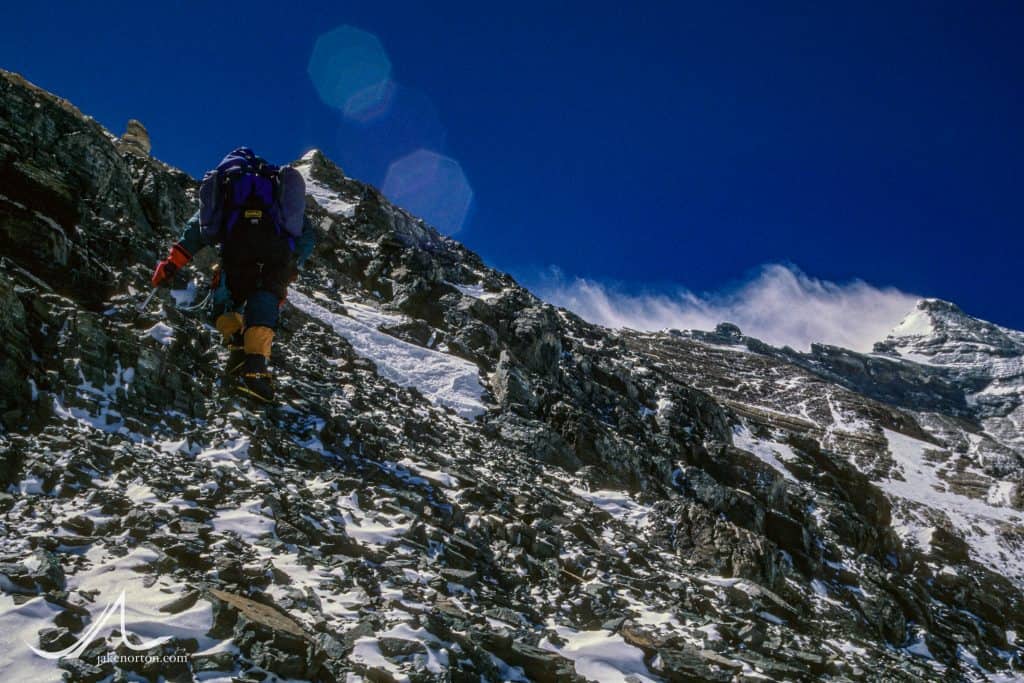 Above our small camp, the climbing route to Camp VI (27,200 feet) followed the geologic catastrophe of the North Ridge - more an unfortunate pile of shattered rock than anything resembling an Alpine ridge - for a few hundred feet before deviating south across the north face to a small runnel of snow leading upward. Our route for the day would be different: when the main route doglegged right, we continued straight, navigating the rubble and fractured towers of the North Ridge proper another 1,000 feet to look for the 1924 Camp VI, last occupied by George Mallory and Andrew Irvine on the night of June 7, 1924.
The climbing was not exactly difficult; "interesting" is a more apt description. On the normal route of the North Ridge, slips are common as the points of crampons tend to disagree with the loose rubble sitting atop downsloping slabs, skittering out rather than gaining purchase, and sending the climber in awkward directions. On the route, though, fixed lines are the norm and, while not always bomber and not always fully intact, they offer a backup, a handrail on which to regain lost balance. For Brent and me, the terrain was similar - perhaps a few degrees steeper - but with no route and no fixed lines; attention and focus was paramount, for a fall here would be hard to stop, and the consequences considerably unpleasant.
We knew little about where the 1924 Camp VI was located. Our resident historian, Jochen Hemmleb, believed it to be near the top of the steep part of the ridge, just below 27,000 feet. We could logically assume it would be slightly to climber's left of the crest of the ridge, maximizing the ridge's natural windbreak to protect the tiny A-frame tent, and the original expedition chronicle - The Fight for Everest 1924 (library access) - noted the camp was in "a narrow cleft in the rocks facing north and affording the suggestion - it was little more - of some shelter from the north-west wind." In '24, they estimated the altitude to be about 26,800 feet, although we suspected it might be a bit higher than that.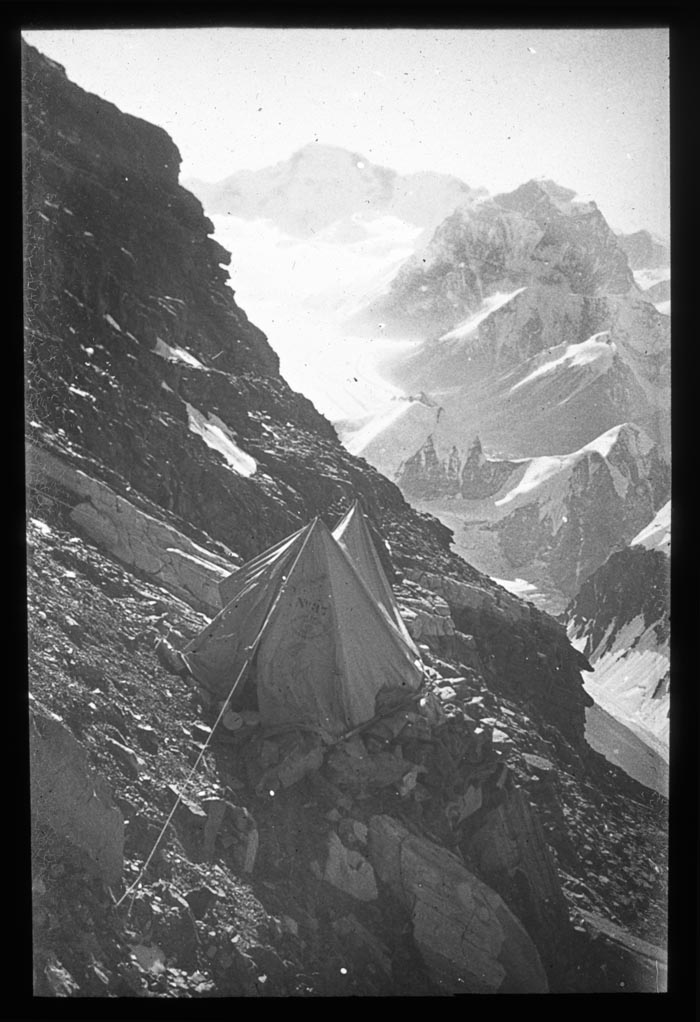 As Brent and I meandered up the Ridge, picking the path of least resistance, I kept trying to put myself in the mindset of Teddy Norton and Howard Somervell, who established the camp on June 3, 1924, with huge help from porters Norbu Yeshe, Lhakpa Chede, and Semchumbi: Where would they climb, in woolen knickers and tweed coats and hobnailed boots? What features on the Ridge would they seek out as suitable for a camp, high enough to launch a reasonable summit attempt while still maximizing protection from the ferocious wind? As we climbed, Jochen assisted via telescope and radio from Basecamp, letting us know what features lay above, lost as they were to our vision in the labyrinth of the Ridge.
Choosing a path of logical feasibility upward at about 26,900 feet, I spied a pointed gendarme of rock not high above; via radio, Jochen confirmed it being in the right location and altitude. As I approached, it seemed to fit the bill: the right altitude, and a flat-ish spot at its base somewhat protected from the wind. (In Fight for Everest, Norton described the total lack of tent spots on the North Ridge well: "I can safely say that in two excursions up and down the whole length of the North Arete of Mount Everest I have never seen a single spot affording the six-foot square level area on which a tent could be pitched without having to build a platform.") As I got closer, however, it seemed less likely, for the gendarme's base was not at all flat, and no realistic spot for even a single tiny tent was evident. And then I looked down, spotting a bit of wood poking from the black-rock rubble: it was a tent pole, lying for 77 years in the rubble of what we now understood to be a largely collapsed tower. We had found the camp and began to investigate.
Not much was left as best we could tell: decades of wind and storm, erosion and weather had taken their toll, reducing the remains of the camp to mere bits and pieces hidden in rubble. Brent and I dug around, moving rocks and scratching through frozen gravel, slowly unearthing tidbits of history, artifacts from the final summit bid of our heroes, beautiful scraps of the past somehow surviving to the present. Along with the tent pole, we found 6 wooden matches and solid meta-fuel from the stove, shredded remnants of the tent and its guylines, leather strapping likely from an oxygen system, a woolen mitten, an Acid Drops candy can full of loose-leaf tea, and a single tattered sock with a tiny laundry label stitched on the side.
The label read simply "NORTON." It was, of course, Colonel Edward Felix "Teddy" Norton's sock, likely abandoned after a water bottle uncorked itself during the night of June 3, soaking his sleeping bag and this one sock: a near Norton tragedy in 1924, and another Norton's boon in 2001.