"Jack, you need some water?" a raspy, familiar voice inquired from behind me on the route to Advanced Basecamp along the East Rongbuk Glacier.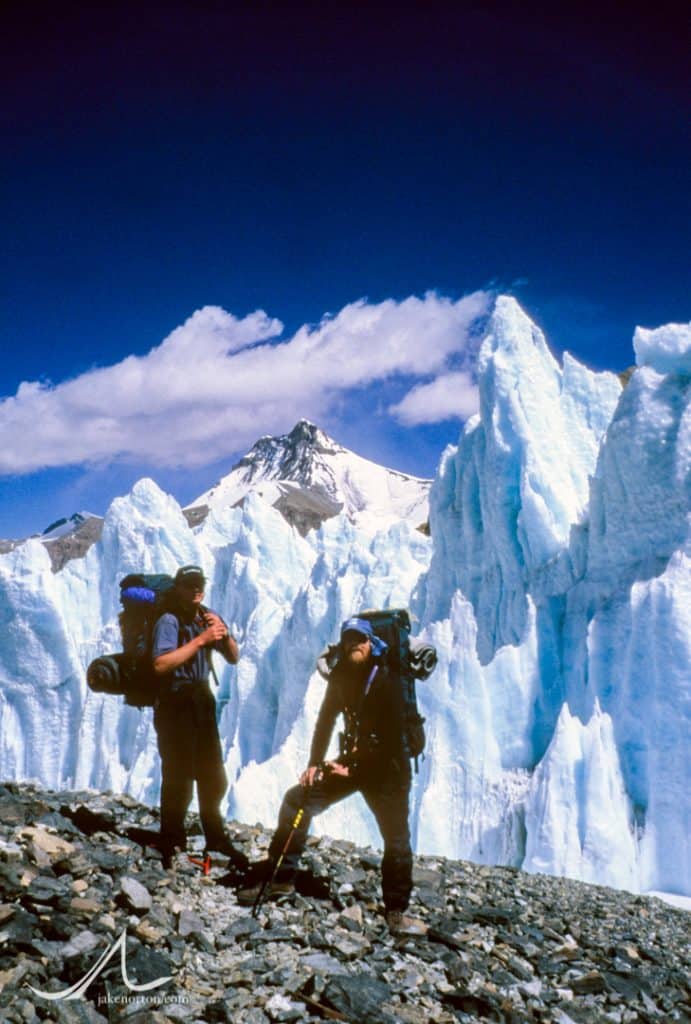 Turning around, I saw Vasily Kopytko holding out a tattered wineskin, a wry smile on his face. I knew from prior experience it was not water he was offering, but a swig of wine.
"Water is no good for mountains," Vasily told me two years prior at Camp II on Cho Oyu as I sat in the smoke-filled tent of the Ukrainian National Climbing Team, eating speck, sharing stories, and laughing a lot. "Water makes you cold. Wine is good. Wine makes you warm. Vodka, too."
I hadn't seen Vasily since 1997 when I passed he and his teammates en route to high camp as they descended from reaching the summit without oxygen or Sherpa support. At the time, we both had Everest ambitions…and, now two years later, here we were, climbing the same mountain together, he and I on different teams, but sharing similarly-challenging missions. We were there to search for Mallory & Irvine, and he and his team were on the mountain to be the first Ukrainians to climb Everest, and planned to do so - as was their tradition - without oxygen and with limited support.
Just as two years before, I found myself admiring the pure toughness of these Ukrainian climbers. They cut their teeth in the Carpathians, in the Tatras, the Caucasus, and the Himalaya, climbing with simple, rudimentary gear, no Sherpa support, nothing fancy - just good old hard work coupled with a never say die attitude. And, they did it all with good humor, generosity, passion, and easy friendship.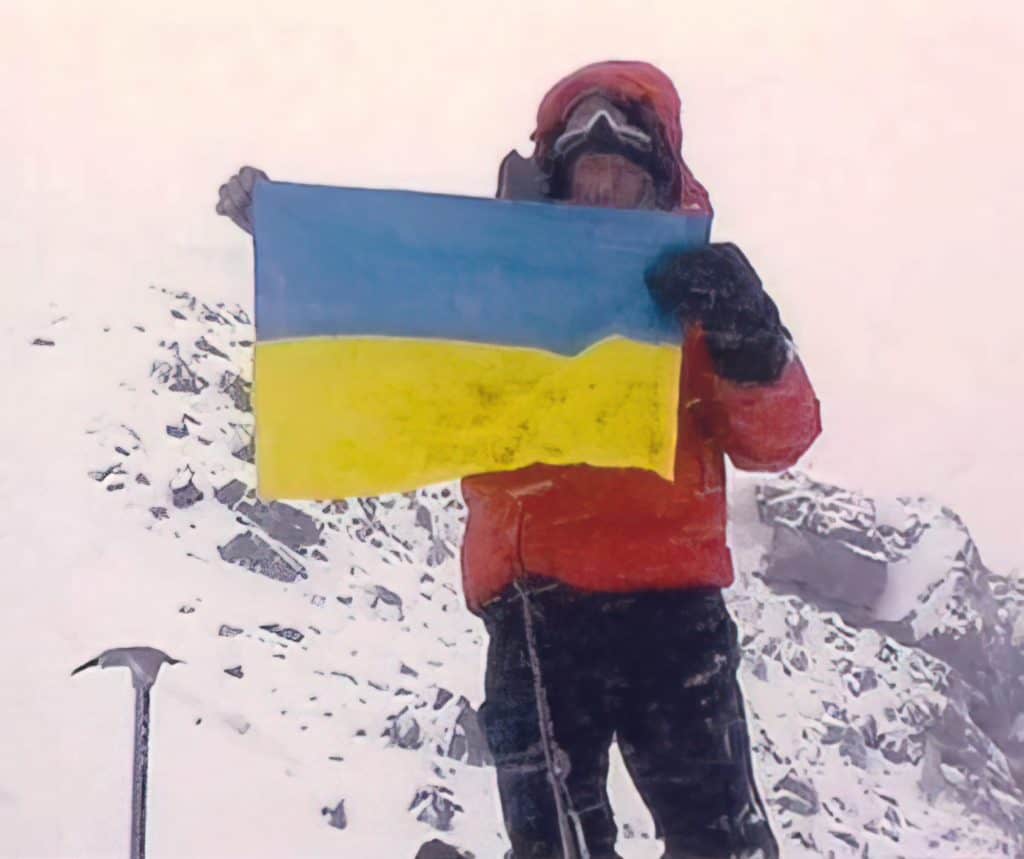 On May 8, 1999, their team managed to put three climbers - Vladislav "Slava" Terzyul, Volodomyr Gorbach, and Vasily - on the summit, the first Ukrainians to climb the peak, raising the now-famous blue-and-yellow flag on the top. Sadly, tragedy struck them on the descent as they encountered storms, got benighted and separated. On May 10, our team and others helped get a badly frostbitten Gorbach down the North Col headwall, along with an exhausted-yet-still-strong Slava; Vasily had disappeared the day prior below the First Step.*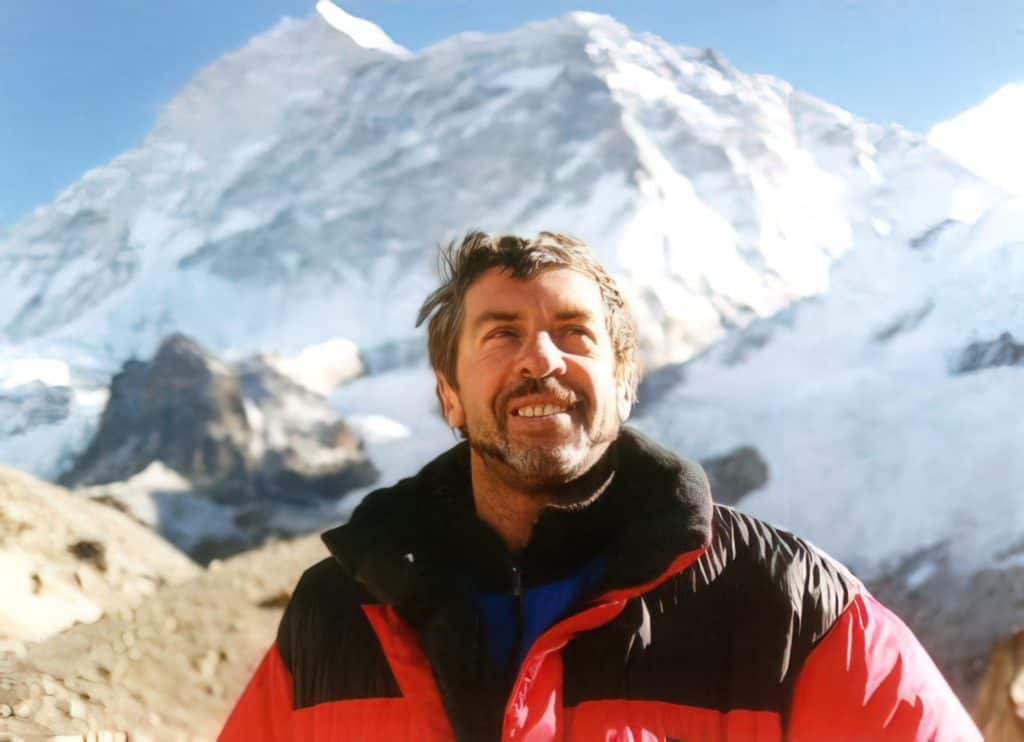 I'll never forget the fortitude of Slava - who would go on to climb all 14-8000ers, dying on descent from Makalu - as he stumbled, stalwart despite his weariness, into th North Col. He reached the summit without oxygen on May 8, climbed up and down the upper mountain several times in search of his teammates, helped get Gorbach down to the Col, and did it all over 48+ hours with no oxygen and no relief. We had to force him to rest in our tents as we tended to Gorbach's injuries and prepared a litter to lower him down the headwall below. Seeing his exhaustion, we suggested many times that he take some oxygen, that it would help restore his strength.
"No. Slava never use oxygen. Slava never give up," was his terse, definitive, impressive reply.
As I've watched with horror and agony as Russian forces brutally pummel Ukraine these past weeks, my Ukrainian climbing friends keep popping to mind. The nylon caterpillar of a tent, reeking of salted pork and cigarettes and vodka, filled always with smoke, laughter, dedication. Vasily sipping wine from a skin, nose peeling, ragged clothing, and a huge smile. Gorbach screaming in pain as his frozen extremities excruciatingly thawed, but staying strong, alert, always trying to help as we lowered him down. Slava, zombie-like, walking under his own power down the North Col headwall, helping still to rescue his friend, never giving up. During those expeditions, I would often wonder how they did it, how they stayed so strong with so little, how they fought so hard for so long for what they wanted, how they - for good or ill - never, ever gave up or gave in.
I wonder the same as I watch the bravery of the Ukrainian people today, fighting proudly, strongly, unendingly against a bigger, stronger invading force. Having lived my life in the bucolic "island" of the US, never tasting war myself, I wonder: How do they keep it up? Why are more not fleeing for their lives to the relative safety of their neighbors? I would like to believe I would fight as they do, be as strong as they are, as dedicated and passionate and just as damn tough as my Ukrainian climbing friends.
But still, I wonder, and I marvel, and I try to understand.
In her powerful book Girl at War, Sara Nović writes about the Croatian war of independence. Her main character, Ana Juric, at one point reflects on speaking with those who have never lived through war:
In the beginning, adults operating somewhere between concern and nosiness had asked questions about the war, and I spoke truthfully about the things I'd seen. But my descriptions were often met with an uncomfortable shining of eyes, as if they were waiting for me to take things back, to say that war or genocide was actually no big deal. They'd offer their condolences, as they'd been taught, then wade through a polite amount of time before presenting an excuse to end the conversation.

Their musings about how and why people stayed in a country under such terrible conditions were what I hated most. I knew it was ignorance, not insight that prompted these questions. They asked because they hadn't smelled the air raid smoke or the scent of singed flesh on their own balconies; they couldn't fathom that such a dangerous place could still harbor all the feelings of home. [emphasis mine]

- Sara Nović, Girl at War [library]
At another point, Ana describes life in a warzone:
Outside, I learned about running. Not the bouncy, pleasurable kind I'd done while playing football or tag with my friends, but a streamlined, adrenaline-injected version of my normal stride. Once I started I ran everywhere—to the water pump, to the post office for UN food, to the underground shelter. When one was maneuvering from house to bomb shelter, it might at first seem logical to travel in as straight a line as possible, to take the quickest way. But I always ran in a haphazard zigzag—believing I could upset the statistical probabilities of hitting a land mine by forging an incoherent path, believing, in the egocentric mind-set of all children, that I was the main target. I was afraid one of the soldiers had seen me pretending to die in the forest and now, spotting me alive and well, was out to finish what he'd started. After a while, though, I noticed that others were running in crooked lines, too. When the Cetniks climbed to the rooftop of the school and sprayed bullets along the road, it was clear we were justified in our self-centeredness. Somewhere in the dead space between house and shelter civilians became soldiers. [emphasis mine]

- Sara Nović, Girl at War [library]
In Ukraine today, civilians are becoming soldiers, and an incredibly dangerous place still remains home for 44 million souls - perhaps is now even more importantly, critically, profoundly home than it was two weeks ago. 
And, as they show daily, mirroring the strength and defiance of the climbers I knew, Ukrainians are proving they can endure, and will not give up. The Ukrainian First Lady, Olena Zelenska, spoke to this the other day on her Instagram and in an open letter to the global press:
Now they [the Ukrainian people volunteering to help] are on a par with the army, holding our country on their shoulders. They find ammunition for the military, carrier humanitarian cargoes, and evacuate people under fire. They accept refugees. Their weapon is their big hearts, and the enemy targets it every minute. But he will not stop them. Since today all Ukrainians are now volunteers in some way.

- Olena Zelenska, from Instagram
The aggressor, Putin, thought that he would unleash blitzkrieg on Ukraine. But he underestimated our country, our people, and their patriotism. Ukrainians, regardless of political views, native language, beliefs, and nationalities, stand in unparalleled unity…Ukraine wants peace. But Ukraine will defend its borders. Defend its identity. These it will never yield.

- Olena Zelenska, First Lady of Ukraine, An Open Letter to the Global Media
Putin of course should have seen this, should have known this, for this tough characteristic is one the people of Russia have shown in spades, most notably during the French invasion in 1812 and the Nazi invasion of World War II. But, with vision obscured by a fog of ignorance, and personal delusions of grandeur, he's remained blind to the realities on the ground, and will - sooner or later - find out the truth.
We achieve that which is beyond the strength of others!

- Vladislav "Slava" Terzyul
It is not those who can inflict the most, but those who can suffer the most who will prevail.

- Terence Macswiney