I wish I knew him better.
I wish I had spent more time with him, hearing his stories and gathering in some of his contagious zest for life.
I wish I had visited more often, and stayed a bit longer.
I wish.
And, I guess those are the thoughts we always are faced with when someone near, dear, and special passes onto the next adventure.
Roe "Duke" Watson was one of a rare breed. A great adventurer, businessman, and just a wonderful person, I grew up hearing lore and legend of "your great Uncle Duke". And, when I grew older and got to know him more, I learned there was no lore or legend, only the truths of a life lived well, lived fully, lived with integrity.
Uncle Duke's accomplishments are far too numerous to go through here, and Lowell Skoog already did a magnificent job of capturing Duke's life and accomplishments in his 2006 article for the Northwest Mountain Journal entitled Duke Watson: A Mountaineer for All Seasons. But, I would be remiss if I didn't make mention of at least a few of his notable accomplishments:
Western Military Academy & University of Michigan graduate, 1937
March, 1941: drafted into the Army, a soon requests transfer into the new 87th Mountain Regiment, later to become the famed Tenth Mountain Division
February 24, 1945: Duke leads his battalion up Mount della Torraccia in the Apennine Mountains. He barely survives a near-direct hit by a 170mm German howitzer shell, which tore open his abdomen. Duke crawls back downhill and, eventually, to safety, under his own power.
1958: First ascent, with Fred Beckey, of the North Face of Golden Horn in Washington (see page 304-305)
1960: First ascent of the west summit of Black Peak, Washington
1962: Crystal Mountain Ski Area opens, which was the vision of Duke and several others beginning in 1955
Over a 20 year period, Duke canoed over 20,000 miles throughout Canada, retracing old routes and linking passage across the north of the continent
Despite all his accomplishments, Duke was always humble. His first ascents in Washington happened almost accidentally, and were never bragged about. Asked what he did in World War II, and his reply would usually be something like: "Oh, I fought a little in the mountains. Nothing much." Crystal Mountain? "It was a neat idea. We all loved to ski." Canoeing across the forbidding northern waters? "Well, it is just something I love to do."
Over the years, Duke served as inspiration and role model for me, an icon of someone who lived life fully, every day, rain or shine, and generally did so with a grand smile. Even in his 90's, he was still climbing Mount Si near Seattle, which ascends over 4,000 feet in about 4 miles. "Oh, it's just a little hike," Duke told me…at age 92.
Duke will be sorely missed. He is survived by his wife Marillyn, his sons Alan, Bart, and Rolfe, and his grandsons Sam and Luke, and of course an extended family and many close friends.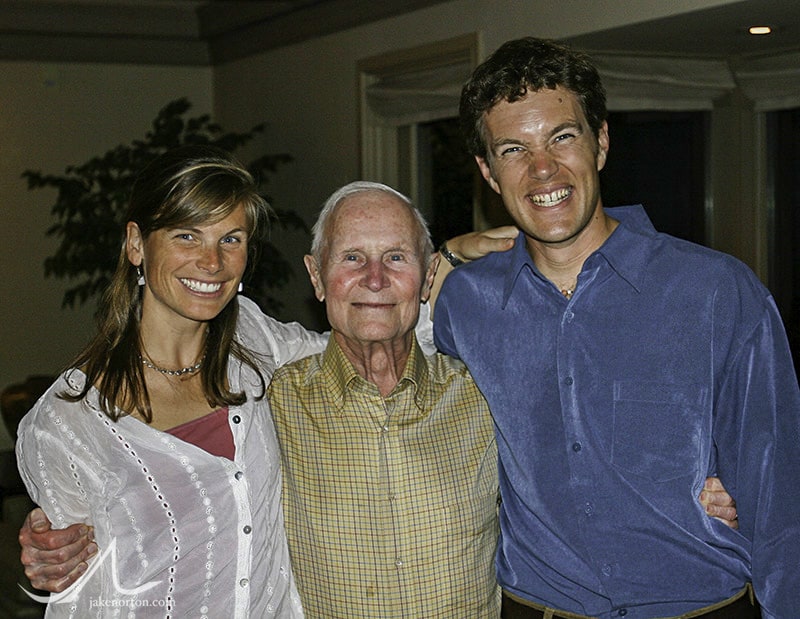 But, like so many great souls, Duke will go on inspiring through his life, his actions, his way of being. Skoog ended his article on Uncle Duke very well:
Duke planned the final leg of his trans-Canada canoe crossing to be the segment reaching the Pacific Ocean. Fittingly, his wife, Marillyn, accompanied him on this trip. When they finally reached tidewater, Duke, perhaps reluctant to admit that the journey was finished, kept paddling straight out into the Bering Sea. To Marillyn, it seemed he was headed for Japan. Exasperated, she asked, "Duke, will you ever stop?" He lifted his paddle and paused, content for a moment to call a halt. But they both knew he would not keep still for long. In retrospect, they agreed that was a metaphor for Duke Watson's long life of outdoor adventure.
So, I find myself today a bit melancholy. But, I'll try to do as Duke would have done. I'll go into the mountains. I'll climb high into the clean, fresh air. I'll commune a bit with the hills, and perhaps with Uncle Duke. I'll drape a khata in a high, solitary, beautiful place, blowing Duke's spirit to the winds. I know he'll not be far away.