Last week, the world community celebrated mountains on International Mountain Day (December 11 each year). I was fortunate enough to celebrate with some amazing people at an online gathering brought forth by the United Nations Mountain Partnership; from legendary climber Reinhold Messner to Ambassador Taalai Bazarbaev of the Kyrgyz Republic, extraordinary trail runner Mira Rai to FAO Director General Qu Dongyu, we heard from a remarkable collection of mountain experts and advocates from across the globe. Additionally, we were able to welcome to our Mountain Partnership Ambassador table world-renowned fashion designer Stella Jean and Tajik emergency response volunteer Dilshodbegim Khusravova, and ended the entire event with a mesmerizing composition by Ludovico Einaudi.  
The day before, I spent time at our yurt high in the mountains above South Park, Colorado, ruminating on - and enjoying the solace of - the high peaks. The following was written that night under the winter winds.
---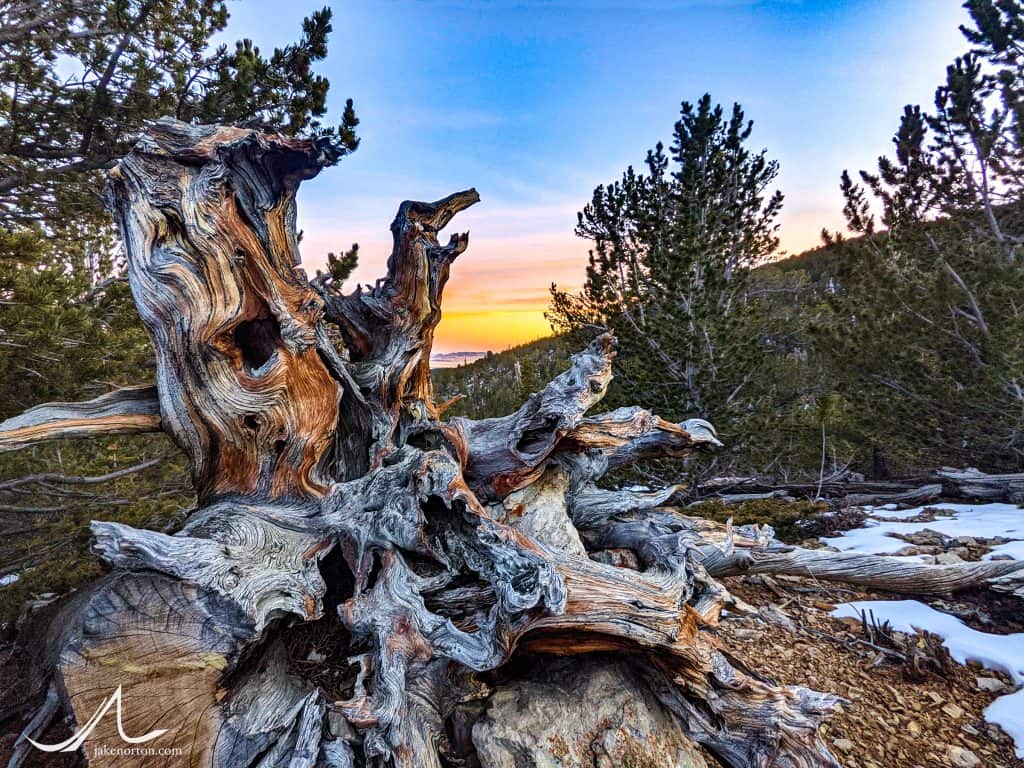 Life at 10,700 feet in the Rocky Mountains is certainly not easy. Outside our small yurt, a cold front-driven wind howls viciously, swaying the ancient ponderosas with unrelenting ferocity. I can't help but worry one may finally succumb to the gale, toppling upon and shattering completely my humble dwelling. Alas, I cannot control it, so I banish the thought and tend the fire. 
During a lull in the storm, I take a stroll uphill to a wind-scoured hillside and the remains of an ancient bristlecone grove. (These, specifically, are Rocky Mountain or Colorado bristlecones, AKA Pinus aristata.) A remarkably hardy species, bristlecones find their homes where nothing else does - on harsh, high-altitude hillsides with dolomite soils and little moisture. Never lacking in the art of surprise, they scrape out a living here, somehow thriving on the hostility of the environment. Their cousins, Pinus longaeva of the Sierra Nevada mountains of California, are known to live some 4,800+ years, while our Colorado ones are a mere 1,000-2,000 years old. 
I make my way to one of my favorites: a gnarled old tree, toppled years ago, victim of a miner's saw in the 1880's when the quest for silver - for wealth - trumped any care for the surrounding environment. This particular tree - once a grand, stalwart denizen of this windy ridge - is stunning even in death, its twisted, spiraled roots framing the vast expanse of South Park far below.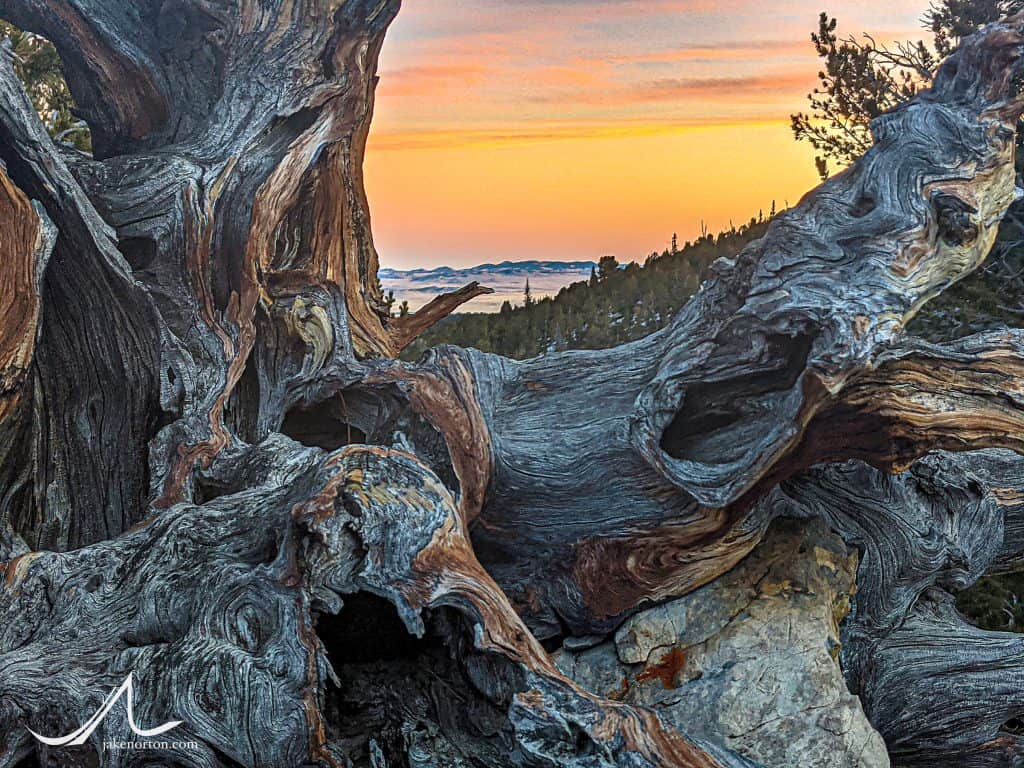 How old is it? I try to count rings from the old saw mark, but lose count after a couple hundred. No dendrochronologist, I make a rough calculation - two hundred rings here, comprising some 1/4 of the width…maybe 800 years old? 
If correct, this one was just a teenager when it went to slaughter, sprouting sometime in the 13th century, looking forward to another 1,000 years of life. During its lifetime, it stood over incomprehensible change in the world: the rise and fall of empires, wars and inquisitions, beauty and savagery, the discovery of the "New World." Closer to home, this old tree witnessed the arrival of the Ute when it was just a toddler, it saw Spaniards venture north a couple centuries later, peace treaties signed with the Ute and the United States, and eventually the full-scale arrival of European settlers scouring the landscape for silver. One of those settlers, Sol Hexter, came from Cleveland, and patented the land and this tree in 1871. It was Sol (or one of his men) who decided this old bristlecone served them better dead than alive, downed in a pile with others rather than standing tall, proud, and stalwart as it had for 500 years. 
I take a seat on the branches of the old tree, watching the sunset just as it has for so long. Patterns. Cycles. Unending undulations on the mountain landscape. Time stands still here…or rather, it continues onward following ancient patterns hewn over millennia. 
And yet, those ancient patterns are changing. Just as Hexter's ax dropped a giant in the prime of its life, violating an ancient process and stopping it cold, so are our individual and collective axes changing patterns in the seemingly inviolable land of mountains. Sitting at sunset in mid-December at almost 11,000 feet, I'm wearing but a light sweatshirt and no hat. It's warm, relatively speaking, and only scant patches of snow occupy the shadowed lee of trees and rocks. Bone dry, unseasonably warm. 
The living bristlecones around don't seem to care. Tough as nails, they've seen - and thrived in - this before, a species made for drought and wind and harshness. But what about the others? The ponderosa that abound are not as hardy, yearning for more snow, more water. The massive aspen groves? Less-hardy still. 
It's time we pay more attention to our mountains, not just as places of recreation, inspiration, meditation, or resource extraction, but as the mighty, dichotomous towers they are, rife with power and strength, yet also fragile bellweathers of the future we choose to create. The United Nations General Assembly just today announced 2022 as the year of Sustainable Mountain Development, and none too soon. 
Across the mountain west, the high country is being ravaged by changes in the eternal cycles - changes brought by humans and felt by all. And, it's not relegated to this locale: mountains across the world are reeling from climate change, shifts in the ancient patterns, swift and deadly as a miner's ax. 
The next morning, I was awakened by the eerie, sublime knell of coyotes on a kill, not too close, but not too far, either. Off amongst the bristlecones and ponderosas and aspens, under the faint light of dawn, they yapped their derision and delight, feasting as they have for untold generations. May they continue here in this lonely place for many more to come.